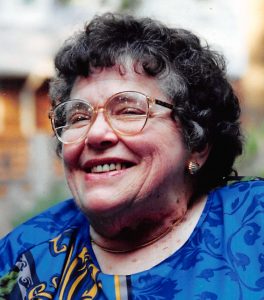 Gloria P. (nee Speciale) Wright
Gloria Wright, 93 of Hillsdale, formerly of Palisades Park died Friday, April 14, at home. 
Gloria was born in Union City, the daughter of Michael Speciale and Josephine Bono Speciale.  She was a graduate of Emerson High School, class of 1941.  During World War II she worked at General Electric. In 1946 she married Thomas H. Wright who survives her.  She is also survived by her sons, Mark T. and Keith D. and his wife, Anne, and two grandsons, Christian and his wife, Jennifer, and Matthew as well as three great-grandchildren: Tyler Jameson, Riley Elizabeth, and John Thomas.  She is also survived by her dear sister, Theresa Poller and many devoted nieces and nephews.  Gloria loved music and frequently sang solos in various vocal groups to which she belonged particularly the choir of St. John's Episcopal Church in Union City. 
She was a member of Hillsdale Seniors and a founding member of  Swim-in  for the Handicapped.  Gloria enjoyed a full life despite many years of illness and disability.  The family wishes to thank Valley Hospice Visiting Nurses and especially her aide, Monica Evans, for her excellent care.    
The family will greet friends and family and celebrate her life in a memorial at Pizzi Funeral Home, 120 Paris Ave., Northvale on Saturday, April 22 from 2PM- 5PM. Donations in her memory will be gratefully accepted by "Swim-in for the Handicapped" c/o Barbara A. Lightbody, 31 Margie Avenue, Cresskill, N.J.  07627.
pizzifuneralhome.com