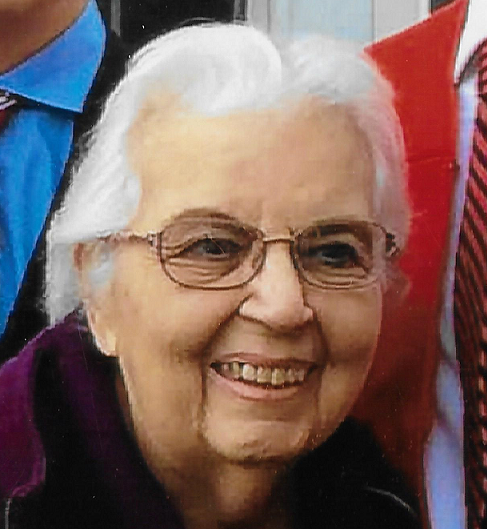 Lucy M. McGuire (nee Barbera), 84, of Southbury, CT died peacefully on January 29th 2018. Born on February 12th, 1933 in Jersey City NJ, to Joseph and Theresa Barbera.  She was married to Edward McGuire in 1960 and lived in Paramus NJ, Easton CT, Mahwah NJ, Barnegat NJ & River Vale NJ. She is survived by three children – daughter Karen Puskas and husband Andy of Roxbury CT, son Michael and wife Diane of Franklin MA and son Joseph and wife Susan of Northvale NJ. Also survived by brother Joseph Barbera of Lakewood Ranch, FL, and brother Dominick Barbera of Paramus, NJ. Six grandchildren – Edward & Lucy Puskas of Roxbury CT, Liam & Maxwell McGuire of Franklin MA and John & Robert of Northvale NJ. She is predeceased by her husband Edward, her parents, son Edward III and sisters Ann Johnson and Mildred Barbera. She graduated from Snyder High School in Jersey City in 1950.  She was employed by numerous organizations, including First National Bank of Jersey City, Helen Keller Middle School in Easton, CT, Coleytown Elementary School in Westport, CT, and Paragon/Time Warner Cable in Mahwah, NJ.
Lucy was a member of the Women's Club of Paramus, NJ and the Ladies Council of Notre Dame of Easton (CT) Church. She was a loving mother and grandmother who enjoyed nothing more than being surrounded by her family while spoiling them with her dinners and desserts.
A Funeral Mass will be celebrated at St. Anthony's RC Church in Northvale NJ on Friday at 10:00 AM with interment to follow at George Washington Memorial Park, Paramus. Visiting hours will be Thursday 2-4 & 7-9 PM at the Pizzi Funeral Home, 120 Paris Ave, Northvale (201-767-3050).
www.pizzifuneralhome.com