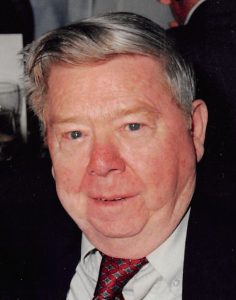 Timothy Healy, 88, of Pearl River, died on Easter Sunday, April 1, 2018. He was born on 6/23/1929 in the Bronx to parents Michael Healy and Beatrice O'Neill.  He met his wife Doris Seery and then in September of 1950 they were married at the Immaculate Conception Church in Queens. They have one son Michael Healy and his wife Susan. Grandfather of Justin and wife Tamara, Chelsea, Dylan, Tyler and Griffen. Dear brother of Margaret Garraston, James Healy, Anna Borucinski. He was predeaceased by his sister Beatrice Howfield, sister-in-law Anne Healy and brothers-in-law Willaim Garraston, Paul Howfield and John Borucinski.
Initially they lived in Huntington, LI before moving to Boston Corners, NY where he and Doris spent most of their lives.  In 2009 Tim and Doris started spending some time at their condo in Pearl River, NY and recently moved there permanently.  Timothy served 32 years as a police officer in the NYPD and retired as a Sergeant.  He was a member of the NYC Sergeants Benevolent Society as well as Gun Club in Boston Corners.  Timothy Healy loved traveling and Camping with is family – he enjoyed many trips and loved spending time with his wife, brother, sisters and his nieces and nephews.  Tim also enjoyed the outdoors and was an avid gardener, fisherman and always went for long walks where he socialized with his neighbors and friends.  Tim was known for telling a good story about the old days in the Bronx or his research about his family Irish history.  He is loved and will be missed.
A Funeral Mass will be celebrated Monday 10 AM at St. Aedan's RC Church, Pearl River with entombment to follow at St. Anthony's Mausoleum, Nanuet. Visiting hours are Sunday 2-4 PM at Pizzi Funeral Home, 120 Paris Ave, Northvale (201-767-3050).
www.pizzifuneralhome.com