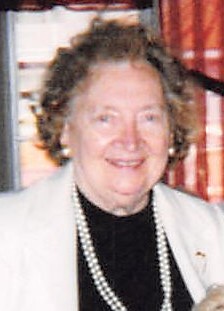 Rachel Lerch (nee Milhaupt), of Old Tappan, NJ, formerly of Bergenfield, NJ, passed away at home on Monday, December 31, 2018.
Survived by daughter Ann Lierman of Ringwood and son Robert of New York and grandsons A.J. and Steven and granddaughter Rachel. Husband Clarence Lerch died February 12, 1980. Prior to her marriage was a Deputy Clerk in the Circuit Court in Wisconsin and did court reporting. Married Clarence and lived in St. Louis until 1960 when his company transferred to this area. Since 1974 she was a church organist in many parishes: St. John's, Bergenfield, St. Pius X, Old Tappan, and Our Lady of the Sacred Heart, Tappan, NY. (Also was organist for many years at Holy Trinity, Newark, Madonna, Ft. Lee, St. Brigid's, North Bergen and St. Rocco's, Union City.)
A member of the Catholic Daughters for many years – and their organist. She was very active in three Rosary Societies and organized trips to Broadway Shows for 30 years (sometimes having as many as five buses.) On the Parish Council at St. Pius X for many years and was their Recording Secretary; on the Local Board of Assistance in Old Tappan for many years.
A member of the Old Tappan Golden Age Club and was their secretary for many years. She was in a number of bridge clubs, which she enjoyed very much. A lover of animals – she boarded dogs and cats for many years.
A Funeral Mass will be celebrated Friday 10 AM at Our Lady of the Sacred Heart RC Church, Tappan with interment to follow at George Washington Memorial Park, Paramus, NJ. Visiting hours will be Thursday 4-7 PM at Pizzi Funeral Home, 120 Paris Ave, Northvale, NJ (201-767-3050).
In lieu of flowers, donations may be made in Rachel's memory to the Church of St. Francis of Assisi Breadline, 135 West 31st St, NY, NY 10117 or your favorite charity.
www.pizzifuneralhome.com