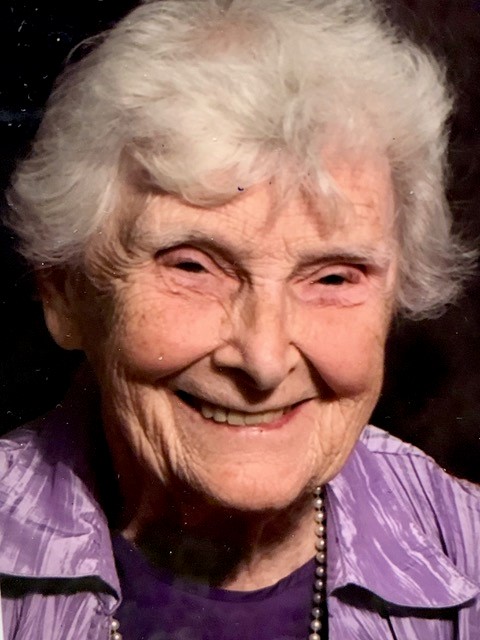 Katherine Klein Kelley of Cresskill, born September 9, 1928, passed away on November 23, after a brief illness.  Born in Woodhaven, Queens, to Edward and Ruth Klein, she graduated from Franklin K. Lane High School; Cornell University (BA); and Teachers College, Columbia University (MRE).  At Cornell, she met the love of her life, the Rev. Dr. Robert J. Kelley, and they married in 1951.
After working on the Lower East Side in community mission, Katherine and Robert moved to Bethel, NY, where he was the pastor of three churches. Robert served two more churches: North Presbyterian in Manhattan and Calvary Presbyterian on Staten Island. At the latter two congregations, Katherine organized and staffed her own flourishing nursery school programs. Her career concluded as a faculty teacher at the Child Development Center at the College of Staten Island. In retirement, Katherine continued to live a full life of service, visiting and helping others. She inspired people to live their best selves.
Katherine is survived by her loving family: son Jonathan and daughter-in-law Tricia Kelley; daughter-in-law, Tracey Kelley; and daughter Elizabeth and son-in-law Lindsay Shadbolt; her grandchildren Timothy, Katherine (John), David (Priyanka), Aaron (Joanna), William, Christopher, and Evan; her great grandchildren McKenzie, Owen, and Lalitha; her brother John Klein (June) and many nieces, nephews and in-laws. Her beloved husband Robert and son Peter predeceased her.
The family is grateful to all those who made it possible for Katherine to continue to live independently, and especially to her church family at the Presbyterian Church in Norwood.
A Memorial Service will be held at the Presbyterian Church in Norwood on Saturday, November 30, at 2 pm. The family will receive friends and relatives in the church hall from 1 to 2 pm. Everyone is welcome to gather for refreshments following the Service and to share memories and reflections. In lieu of flowers, the family requests gifts in memory of Katherine be made to the Presbyterian Church in Norwood, 701 Broadway, Norwood, NJ 07648.
www.pizzifuneralhome.com