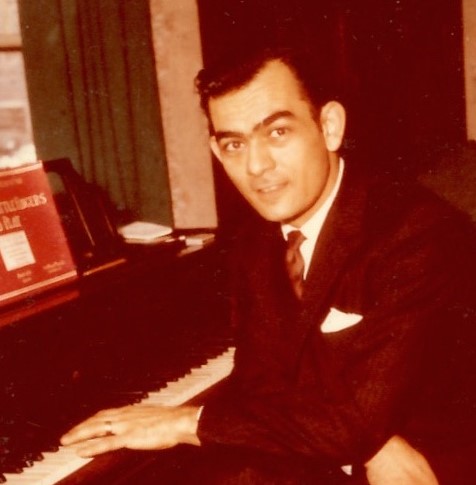 Anthony August Piano (July 26, 1926 – July 20, 2020), known as Tony Piano to friends and colleagues, passed away just shy of his 94th birthday. His death was caused by cardiac arrest likely the result of the congestive heart failure that developed only a month earlier; prior to this, Tony lived an extremely healthy life. A firm believer in nutrition and vitamin supplements, Tony was never ill until he developed pneumonia at 91 years old. And even then, he recovered quickly, remaining limber and energetic until shortly before his death at nearly 94.
Tony had a sharp mind and quick wit until the bitter end. With a career spanning radio, television, the music industry, theater, publishing, and advertising, Tony worked as a music director, lyricist, composer, A&R man, musician, playwright, creative director, magazine Editor, and copywriter. He was also a proficient astrologer, and used his mathematical expertise to create a novel numeric system for chart interpretation. Over the years, he did thousands of charts and amassed enough material for a book that he never got around to writing.
Anthony August Piano was born and raised in Brooklyn, NY. His parents were 1st generation Italian-Americans, and English was the only language spoken in his home. Anthony had a natural aptitude for languages, however, and became fluent in French, Latin and Russian, attending St. Michael's Diocese High School in Brooklyn and graduating at the top of his class. During Word War II, Tony was accepted into the Navy's prestigious V12 college training program, and was sent to Princeton, and later Harvard University. Tony graduated from Harvard with a B.A. in English, with a concentration in Shakespearean free verse. He used this skill to write poems and sonnets throughout his life, as well as the book and lyrics for a musical comedy ("Chantecler") written entirely in Shakespearean free verse. Also while at Harvard, Tony played trumpet in a jazz ensemble that featured Jack Lemmon on piano.
Shortly after college, Tony worked as a music director at ABC radio for "Your Dancing Party," a live 2-hour show featuring big band music, and was discovered by the Head of A&R at Columbia Records, none other than Mitch Miller. Mitch hired Tony as an A&R rep for Columbia, where his key focus was helping to develop new talent; nevertheless, Tony also helped to launch the iconic TV program, "Sing Along with Mitch." During the late 1950s and early 1960s, Tony worked with musical acts such as Art & Paul, Tony Romeo, The Four Voices, Buzz Clifford, and Chubby Checker. Also during this time period, Tony teamed up with his cousin the composer Michael Colicchio, and wrote several songs recorded by Columbia artists: "On a Merry-Go-Round" (Percy Faith & His Orchestra), "Mickey My Love" (Paul Evans), "Annie B is Gone" (Ronnie Chapman), "The Beatnick Bounce" (The Beats), and last but not least, "Cherie," and "The Story of Our Love" (Johnny Mathis).
While at ABC, Tony met Anne Claudia Grassi, and says he immediately knew she was the perfect partner for him. They married in 1954 and later brought Mark Michael, Claudia Anne, and Jane Maria into the world. Sadly, Anne passed away from lung cancer in 2016.
In 1964 Tony embarked on a personal project for his young children, a musical fable based on the popular television show "Diver Dan." The project culminated in the LP record, "Diver Dan and the Bermuda Onion," featuring the voices of improv maestro Del Close and TV personality Kay Lande (of "Birthday House" fame), as well as Columbia artists Tony Romeo, Buzz Clifford, and Tony Piano himself playing 3 of the characters. Although distribution of the album was so limited it never achieved commercial success, the story was engaging enough and the songs catchy enough to charm 3 generations of children who were lucky enough to listen to it.
In the mid-1960s, Tony left the music industry and became an advertising copywriter. He said this decision was fueled by his wife's request that he spend more time at home with his children and less time on the road. Tony started out at Madison Avenue agencies, creating award-winning campaigns for IBM and Lysol, among others, then launched a boutique ad agency in Tappan NY with partners Elliot Leader and Dick Perlstein (Leader, Pearlstein & Piano). Being a business owner was not Tony's thing, however, so that venture was short-lived.
Tony shifted gears and tried the publishing business in the late 70s, when a former client hired him to launch "Identity," a quarterly magazine focused on the Italian-American experience. As Editor-in-Chief, Tony got to select content for each issue and even wrote a series of articles about Brooklyn. The magazine only lasted a year before it was re-purposed and sold to another publisher, and Tony decided it was time to focus on finishing the musical he'd been writing with his cousin Michael.
In 1981 "Chantecler, A Musical Fable in Two Acts with book and lyrics by Anthony Piano and music by Michael Collichio" previewed for 3 weeks on Broadway. Critics and potential producers were invited to attend and asked for constructive feedback. The show was very well-received, and a group of producers agreed to back a full-scale re-launch of the show on Broadway, provided Tony and Michael make some suggested revisions to the play. Unfortunately, the play never got produced because Tony was never quite satisfied with the revised version. Many years later, after his cousin Michael had passed away, Tony said his greatest regret in life was that he didn't "just sit down with Michael and finish the damn show!"
Later in the 1980s, Tony started Thinking Systems Inc., a one-man copywriting shop where he wrote for various clients until he retired at 91 years old! Tony found that he had a real knack for direct-mail copywriting, and was never without work during the 35+ years he was self-employed. During those years, Tony worked in an office he'd set up in his family home in Airmont, NY, where, he discovered, he was truly happiest.
Despite his remarkable life, if you were to ask Tony what he considered his most important role to be, he'd tell you that it was "being Jane Piano's father." Tony's youngest child Janie had developmental disabilities and her life was very challenging, but she was also an evolved soul who exuded joy and love to everyone she met. Tony adored Janie and derived great happiness from cooking her favorite meals, taking her out to restaurants and shows, taking her swimming in the pool, telling her stories, making her laugh, and just doing things that made her happy. After Janie passed away in 2011, Tony said he no longer feared death, because he knew that when he died, he'd get to be with her again.
After growing up in Brooklyn, Tony lived in 2 other NY boroughs after he married Anne—Queens, and The Bronx. But it was New Jersey where Tony spent much of his adult life. He and Anne bought a house in Closter, NJ, where they raised their 3 kids, then moved slightly north to Rockland County, NY (Airmont) in 1995. They were fortunate to have their son Mark looking after them in their later years, particularly when they could no longer drive. After Anne passed away, and with his eyesight failing, Tony agreed in 2017 that it might be time to retire, sell the house in NY, and move to Charleston, SC with his daughter Claudia and son-in-law Michael.
In 2019, Tony made the big move to South Carolina with Claudia and Mike. Tony liked everything about the Charleston area, and every time he left the house, he noted that it was the cleanest and friendliest place he'd ever been! He always remarked on the abundance of trees, plants, and flowers all year round, and he found the warm climate to his liking. Tony considered his son-in-law Mike to be one of his best friends, and they had lots of fun together, especially singing and telling stories over breakfast every day, right up until the very end. On Monday July 20, Tony passed away at home, in his own bed, which is just how he would have wanted it.
Tony is survived by his son Mark, his daughter Claudia, his son-in-law Mike Dryden, his niece Maryanne Neddenien, and his nephews Bob and Andrew Brady.
There will be a funeral service for Anthony Piano at Pizzi Funeral Home in Northvale, NJ on Saturday September 5, 2020 at 10am, followed by a mass at St. Anthony's Catholic Church at 11am. Tony's cremains will be laid to rest near his daughter Jane at The Garden of Memories in Paramus NJ.
Those who wish can watch a livestream of the wake and funeral mass through the following link:
https://boxcast.tv/channel/anthony-august-piano-memorial-mass-477495