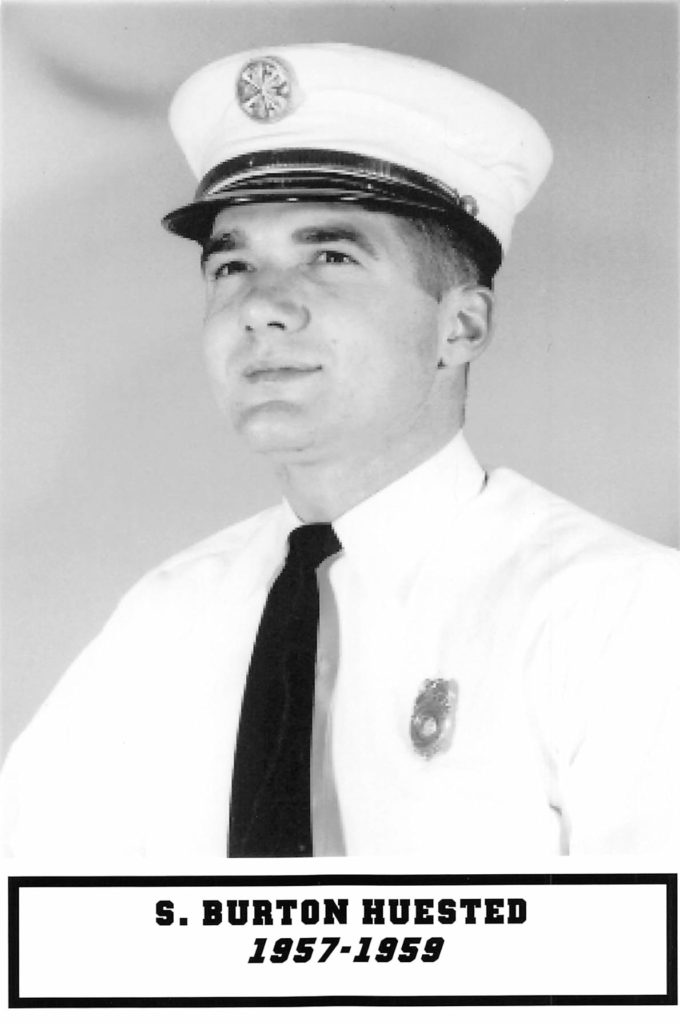 Huested, S. Burton of Durham, NC formerly of Blauvelt New York passed away on Wednesday, December 9th. He is survived by his wife of 64 years Shirley Knutson Huested, daughter Melissa Huested Oberrath of Durham, NC, 4 grandchildren and 11 great grandchildren. He was predeceased by his son Stephen Blauvelt Huested.
Burt attended grade school in Blauvelt and graduated from the Orangeburg School because he was the only one in the 8th grade in the Blauvelt School. He attended Nyack High School and graduated in 1951. He attended New York State College at Farmingdale, graduating in 1954 with a degree in Nursery Management. He joined his father in the family business "Rockland Nurseries" which was established in 1844. Burt's great grandmother was a Blauvelt.
Burt was active in community affairs serving in every office in the Blauvelt Volunteer Fire Company. He served as Chief for 3 years and was elected Chairman of the Board of Directors yearly for more than 25 years. Upon his retirement and impending move out of the state, he was named Chairman Emeritus of the Blauvelt Volunteer Fire Company.
After his retirement from the nursery, he was asked to work for the Orangetown Parks Department as a horticulturist. He was chairman of the Rockland County Fire Training Site Committee which selected the site and oversaw the construction of the present fire training facility in Pomona. He was a member and former Chairman of the Rockland County Fire Advisory Board. He was a life member and former President of the Rockland Fire Chiefs Association.
He was a life member of the Rockland County Volunteer Firemen's Association and Orangetown Chiefs Council. He was a member and former chairman of the Orangetown Parks Advisory Board, the Rockland County Parks Committee, and the original Orangetown Housing Authority.
He was a Republican Committee member for District 3 in Blauvelt and Area Chairman of the Blauvelt-Orangeburg Area for the Republican party. He was a Delegate to Rockland County Republican Committee and member of the Association of Blauvelt Descendants.
A Funeral Service will be held Saturday, January 2, 2021 at 11 AM at Pizzi Funeral Home, 120 Paris Ave, Northvale, NJ (201-767-3050) with interment to follow at Greenbush Cemetery, Blauvelt. Visiting hours are Friday, January 1, 2021 from 2-4 & 7-9 PM.
In lieu of flowers, donations in Burt's memory to the Blauvelt Volunteer Fire Co., 548 Western Highway, Blauvelt, NY 10913 would be greatly appreciated.
www.pizzifuneralhome.com