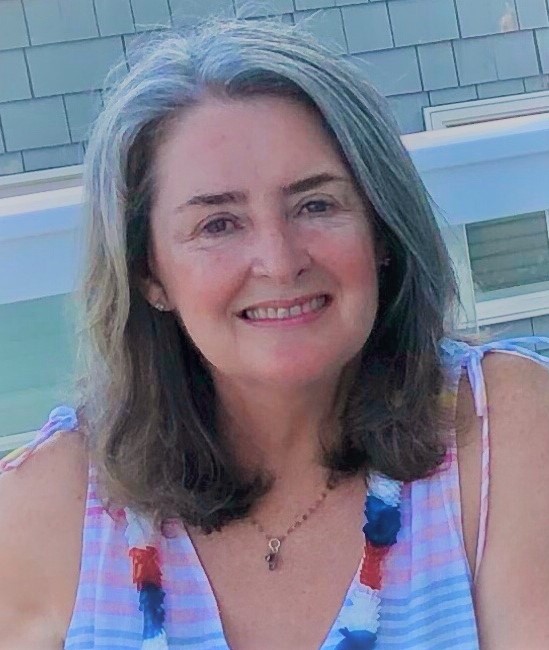 Kathleen McGovern Mahoney, was 56 when she passed away on December 17, 2020 in Old Tappan, NJ. She was in her beautiful home, and entered the kingdom of heaven peacefully, surrounded by her loving family, and inseparable dog Molly.
Born to Frank and Kathleen (Devine) McGovern in Glasgow, Scotland on Sept 5th, 1964, the second youngest of 6 siblings. At 22 years old, Kathleen emigrated to the USA along with her siblings and settled in Nyack, NY. Eventually her sweet mom, also Kathleen, emigrated as well and lived right down the street.
Kathleen started her career in the Fashion Industry, but had so many other talents, notably a keen photographer and expert hair stylist with a deep passion for interior design, music and dancing. Kathleen created many beautiful spaces over the years. Most recently, despite her Illness and treatment, Kathleen designed and created a gorgeous beach sanctuary for her family.
In 1991, Kathleen met the love of her life, Patrick Mahoney and it was truly a match made in Heaven. The young Irish man from Louisiana and the Scottish lass created a beautiful partnership. Together they welcomed three children into the world who were the center of their lives. Kathleen was a devoted wife, and a loving mother, daughter and sister with the most generous heart.
Kathleen was diagnosed with lung cancer in 2018 and fought a long, courageous battle, and personified both dignity and grace. Never complaining, always positive, dancing to the end. Kathleen inspired all who knew her with her strength, compassion and love.
Kathleen is survived by her devoted and loving husband Patrick, 24 year old son, Patrick, and 16 year old twins, Faith and Aidan. Also survived by her mom, Kathleen, sister Anna, brothers Frank, Jack, Martin and Paul. Not to mention a very large and extended loving family of Aunts, Uncles, Cousins and in laws.
Although the Funeral Mass at Our Lady of Victories in Harrington Park, NJ  will be private due to covid restrictions, those who wish may watch a livestream of the mass on the link below on Wednesday December 23, 2020 at 10 AM.
https://boxcast.tv/channel/kathleen-mahoney-funeral-service-757927
In lieu of flowers please donate to the Elephant Nature Park, www.Elephantnaturepark.org
www.pizzifuneralhome.com