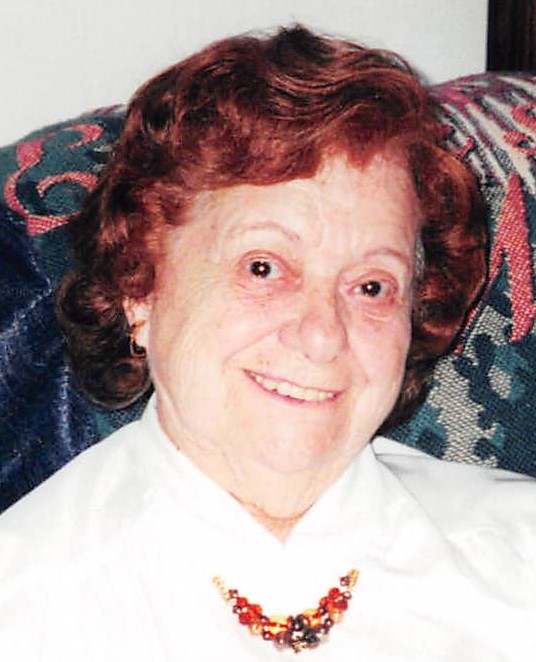 Johanna Maria Kittan (nee Moncalieri), 100, of Northvale, NJ, passed away peacefully on Monday, February 15, 2021. Devoted wife of George Kittan. Loving mother of Jeanne Ann Scarano (nee Frassa) and husband Pasquale of Emerson NJ, and Marie Peterson (nee Frassa) and late husband John of Emerson, NJ. Proud "Nanni" of seven grandchildren, Ronald (Christine), Gene, John, Michael (Odessa), Johanna (Scott Sr), Joseph (William) and Anthony (Melissa). Adoring "Nauni" of seven great-grandchildren, Scott, Eric, Jenna, Sabrina, Shayla, Courtney, and Nicholas and great-great grandmother of Rylinn. Cherished sister of the late Paul (Lillian), Madeline (Dante), Victor (Jane) , Eugene (Winifred), Charles Alfred, Charles Albert (Dorothy), David (Madge), and Virginia. Treasured cousin of Patrick Ruggiero (Seeta). As the last living elder, she is also survived by many nieces, nephews, great-nieces and great-nephews.
Johanna was born on Philadelphia Avenue in Northvale, NJ, on November 3, 1920 to Virginia (Spiratelli) and Anthony Moncalieri. She was a graduate of Parisian Beauty School and worked as a hairdresser in various salons until her retirement. She was also well known for her radiant smile and friendly personality while she waitressed at various establishments.
Johanna was an active member of the Northvale Maguire Senior Center for many years. Early on, she organized rummage sales, pot-luck dinners, and donated beautifully crocheted hand-made items for fundraisers. Later, she ensured donations from local eateries and delivered them weekly. She was a devout Catholic and a member of St. Anthony's RC Church in Northvale, NJ. Johanna was also the President of the Ladies Auxiliary American Legion Post 366, in Northvale NJ.
Johanna was honored as the oldest living lifelong resident of Northvale at the Northvale's Centennial Celebration. She was presented a plaque of recognition by the Mayor and Council.
Johanna enjoyed travel, having seen many states and various countries around the world. She enjoyed cruises and visited several islands. During the summers, she spent most of her time at her vacation home, with her children and grand-children, on the Jersey shore for more than 40 years. She also enjoyed her evenings at the casinos playing the slots. Her hobbies included cooking, preparing home-made ravioli for her family to enjoy, baking delicious cheesecake and "dark-secrets" with her sister Madeline, as well as singing tunes while playing her organ.
The pride she felt for her family was unfailing. She loved to hear of their accomplishments and would brag to anyone who would listen! A kind and gentle soul, Johanna always saw the good in others. She was uplifting and made friends easily. Johanna was always ready to lend an ear, or more, to anyone in need.
Johanna, affectionately known as "Hanna," will be deeply missed and never forgotten by her family and all who knew her. She will be kept in our hearts forever.
Those who feel comfortable are invited to pay their respects in person on Tuesday, March 2, 2021 from 3-8 PM at Pizzi Funeral Home, 120 Paris Ave, Northvale (201-767-3050). A Funeral Mass will be celebrated Wednesday, March 3, 2021 at 10 AM at St. Anthony's RC Church, Northvale with interment to follow at George Washington Memorial Park, Paramus, NJ.
In lieu of flowers, donations in Johanna's memory may be made to Shriners Hospital for Children PO BOX 863765 Orlando, FL, 32886.
www.pizzifuneralhome.com