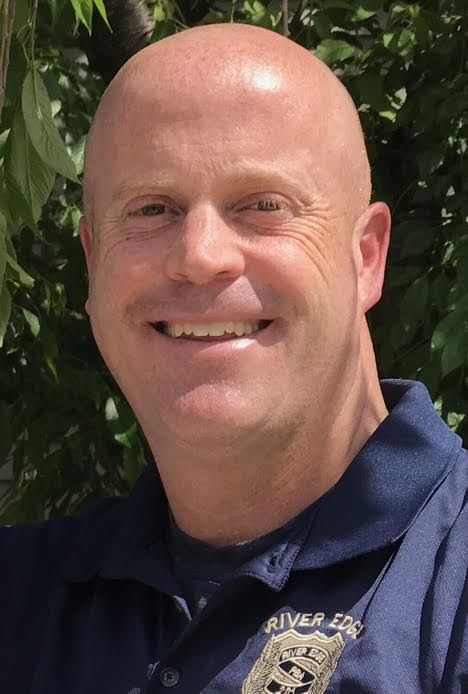 Detective Sergeant Christopher Assisi "Coach" Cheevers, 51, of Oak Ridge, NJ, departed this world on May 4th 2021, to ascend a trail to heaven and meet again with his beloved parents, grandfather Poppy, friends, relatives, and ancestors.
He intensely loved those who survive him, especially his wife Tara, his five children Avery, Katie, Joseph, Owen, and Kiersten, his siblings and cousins, their extended families, and the many friends he made over his lifetime in Harrington Park, River Edge, Oak Ridge, and around the world.
Chris was born on the Feast of Saint Francis of Assisi in New York City — hence the unique middle name, and the lifelong love of nature and animals. He was raised in, and by, the town of Harrington Park, New Jersey, and graduated from Bergen Catholic High School in 1987 as a scholar and varsity athlete in Swimming, Cross-Country, and Track. He attended the University of Southern California where he made their storied swim team as a walk-on, and graduated from St. Peter's Jesuit University of New Jersey. In addition to being a great police officer for nearly 25 years, he also served proudly as a substitute teacher, lifeguard, deli counter man at The Store, international mail expert, church lector, great host, mentor and hero to hundreds, friend to thousands, "Super Uncle" to all his nieces and nephews, and a perpetual student.
Everyone will miss all of his special smiles, his knowing eyes, and his kindness. He was a consistent and compassionate pillar of strength for his wife and children, reminding them in daily notes, chats, and texts that he loved them, and that they should have faith and hope and love. He was always present and truly there for the people he loved.
He was as strong as he was emotional, and as brilliant as he was athletic. He could drop accurate and arcane references at will since the days before the internet existed. Better known for his chocolate chip cookies, daredevil cooking ideas, and creative sandwich combinations than his dancing and rapping, Chris made the best out of any situation – whether lost in the woods in night, losing his car keys in a lake, or shoveling torrential snow for hours. He would find humor and laughter in comedic misfortune. He was selfless to a fault. He was a fierce defender of family. He was a protector of the weak and the powerless and he fought tirelessly for those who needed a warrior to speak for them. He kept his vow to never live anywhere too flat or too hot, and spent his weekends hiking, kayaking, swimming, and looking for hawks in the sky. A gentle giant, he proudly walked hand-in-hand with his Mom in public, and his daughters knew all too well, so often, "he's going to cry." Kids and dogs loved him, and he loved them back. He loved music and books and movies and lively conversation and debate.
As his Mother's son he always arrived prepared to sporting events, whether it was with delicious food, pep talks, dry clothes and towels, orange slices for the team, or the precise encouragement and kind words of wisdom or scripture to help someone through a tough play or tough day. "Coach" could and would talk to everyone for hours, on any subject, and show up for anyone who needed him with an infectious smile and make that spot in the world a little bit better just by being there. His attendance record at his children's' sporting events was amazing, and his voice was the loudest one there.
For anyone fortunate to have Chris in their lives, they all knew that Chris was the go-to guy. He had everyone's back. The evidence is there in the joy on his face when he honored an aged WWII veteran on Memorial Day or the concerned paternal love he displayed for fostered babies born with drug addictions. Few carry the weight he bore humbly on his shoulders, and few can follow his charitable footsteps on behalf of so many.
If you knew Chris, from back in the day all the way up to this week, for a day or for decades, you know he wore his heart on his sleeve and was always there for others. Remember him kindly and proudly and tell his story and stories about him forever. And in times of crisis, or worry, or sadness, or glory, or when big decisions face you, think of Chris, and ask "what would Cheevers do?" We think he'll be looking out for you and for all of us, and will try to get you his answer.
Donations are being accepted to the Sergeant Christopher Cheevers Memorial Fund or donate to Warriors Heart Foundation in Chris' memory in lieu of flowers. Or honor him by doing good, supporting your local PBA, volunteering, being kind to the elderly, children, and animals, or bringing peace, joy, light, kindness, laughter, and good food into this world in any other way.
A memorial service will be held this Thursday May 13th at Van Saun County Park Paramus New Jersey.
Details:
Location
Van Saun Park
Walden Pond Pavilion F
216 Forest Ave.
Paramus, NJ
Co.bergen.nj.us (For Directions)
Schedule
10am Memorial Service Begins, Open to the public
11:50am Public Departs
12 Noon Private service for family only.