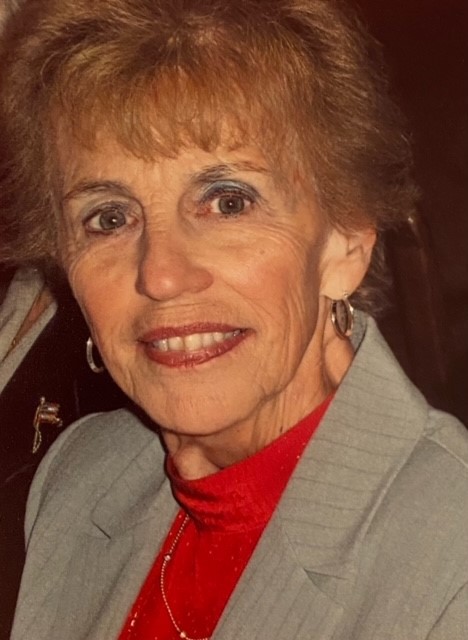 Lillian Margaret Galbornetti, 87, of Norwood was born July 9th, 1934 to Cosmo and Michelina "Margaret" Mastronardi in Cedarhurst, NY. She was married to Gene for 63 years. Lillian leaves behind Gabrielle (Gigi) Marino (John), Landing, NJ; and Greg of Avon, NJ. She also leaves her four grandchildren Matthew (Arianne), Danielle and Christian Marino; Isabella Galbornetti. Lillian grew up in Inwood and Cedarhurst, NY and lived in Norwood for 60 years. She was a1952 graduate of Lawrence High School, a 1956 graduate of Potsdam University Teachers College with a BS degree in Music Education and in 1982 earned a MS degree in Elementary Education from CW Post/ LI University, Orangeburg, NY. Lillian was a music teacher and then a 2nd grade teacher for 20 years at Immaculate Conception/ Holy Family School in Norwood. After, she taught at Saddle River Day School and lastly, at St. Joseph's Sacred Heart School in Demarest. Lillian was a choral director, Secretary for the library, Catechist and Eucharistic Minister. She was regularly involved with the women's club and the seniors. Lillian loved to read, a novel was near her wherever she went, and enjoyed engaging in talking about books, world events and news. Lillian cooked daily and baked frequently. She liked to sew and play the piano. She found pleasure in watching movies.She would walk every day in the morning, and was a member of a local gym. She appreciated nature, animals and more significantly, Lillian adored the beach and the warmer weather. Her love of Tennis went adjacent to watching sports which included; Tennis, Baseball and Football. Lillian had always been active in her accomplished life; she was versatile, skilled, knowledgeable, wise and loyal to all she knew.
Lillian and Gene often attended sporting events for their granddaughters, Danielle and Isabella. Her grandchildren, Matthew, Danielle and Christian spent a majority of their younger years with their grandmother (Grandee); they admired and tenderly loved her for many qualities which allowed them to cherish and keep Lillian close to their heart. She found joy in sharing her interests with her grandchildren; highly exemplifying her gratitude to the ones who reciprocated the foundation of who Lillian stood for as an active, creative, kind-hearted, devoted, compassionate, courageous and much more that represented the human being and woman Lillian was. Lillian and Gene were present for important events in their children and grandchildren's lives ie.; birthdays, graduations. Holidays were special to Lillian; she deeply valued the time spent with family.
Lillian Margaret Galbornetti, 87, passed away on October 31, 2021.
A memorial Mass will be held Saturday, November 13, 2021 at 11AM at Immaculate Conception Church, 211 Summit Street, Norwood, NJ.
Donations in Lillian's name can be made to the Norwood EMS, 496 Broadway, Norwood, NJ 07648.
www.pizzifuneralhome.com