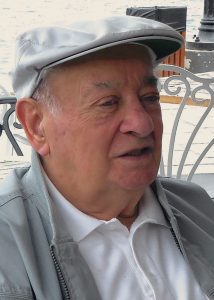 Nicholas Camenares of Pearl River, aged 93, passed away on November 20, 2017. He is survived by his wife of 65 years June (nee Vespoli), children Karen Azcuy (husband Dennis) of Tappan and Kevin Camenares of Arlington, VA, and grandchildren Derek (wife Jessilyn), Evan and Victoria.  He also leaves behind two brothers, Peter and George.
Nicholas was a US Navy Veteran of WWII, serving in the Pacific theater. He was active in several veterans organizations, and was an Amateur Radio Operator (W2PAV) for many years. He was a lifelong member of the Masons (AGDS Lodge), and more recently, the Montebello Senior Center in Suffern. He was also a founding member of Saints Helen & Constantine Greek Orthodox Church in West Nyack.
Funeral services were held privately.
Arrangements by Pizzi Funeral Home, Northvale
www.pizzifuneralhome.com