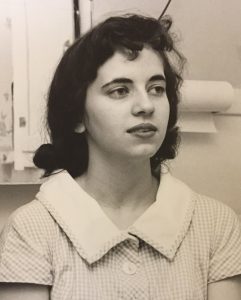 Kathryn "Kathie" Frances Genco (née Ernst), of Harrington Park, beloved wife, mother, sister, grandmother and great-grandmother, died on Friday, September 7, 2018. She was 79 years old.
Kathie was born in St. Louis, Mo., on July 2,1939, to Louis and Lucille Ernst. She met Joseph A. Genco on what turned out to be a successful blind date, and the two married on May 28,1960. After living for a brief time in St. Louis and Brooklyn, the young family moved to New Jersey, though they would frequently vacation in St. Louis to visit family and attend Kathie's annual high school reunions at Laboure. They also spent many wonderful summers in Upstate New York at Genco Village.
She and her husband raised five children in Haworth, N.J. They ran a chiropractic office in Teaneck and then later out of their home, with Kathie serving as office manager. The practice helped to inspire a lifelong dedication to healthy living, which she imparted to her children and grandchildren.
It'd be difficult to find someone as kind as Kathie. She was always very sensitive to the feelings of others, spoke softly and listened intently.
But even at five-feet-tall, she could be commanding. When playing a game with her grandchildren in which a wink meant elimination, she won silently and swiftly. And with just a look, she could stop her husband from reaching for that second (or third) cannoli. She was an eagle-eyed guardian of her family's health.
She was also a devout Catholic who was devoted to Mary and a dedicated parishioner of Sacred Heart Church in Haworth. She supported the Right to Life organization, was involved in Cursillo and Cornerstone and served as president to her local chapter of the Rosary Society. She also enjoyed playing piano and guitar. And though she was the first to admit that her voice perhaps needed some refining, she loved singing in the church's choir and worked hard at fine-tuning her God-given instrument.
She is survived by her devoted husband of 58 years, Dr. Joseph Genco; her daughter, Joanette (Frank) Femia; her daughter, Lucy (Kenneth) Brenzel; her daughter, Nina (Michael) Ortore; daughter, Marian (Michael) Hobbins; son, Joseph (Catherine) Genco; grandchildren, Anthony, Vincent (Sarah), Christopher (Caitlyn), Kathryn, Joseph (Jacqueline), Michelle, Keryn, William, Grace, Michael, Olivia, Caitlin and Joseph Patrick; and great-grandchildren, Luca, Everleigh and Juniper; her sister, Mary Lauer; her sister, Jo Ann Cwiklowski; her brother, James Ernst; and many nieces, nephews and sister- and brother-in-laws.
She is predeceased by her parents, Louis and Lucille Ernst; brothers, Paul and Brother Louis Ernst; and sister, Alice Gambill.
A Memorial Mass will be celebrated at Scared Heart Church, Haworth, on Saturday, Sept. 29, 2018 at 12 noon with entombment of to follow at Mt. Carmel Cemetery, Tenafly.
The family asks that donations in Kathie's name be made to Sacred Heart Church at 102 Park Street, Haworth, N.J., 07641 in lieu of flowers.