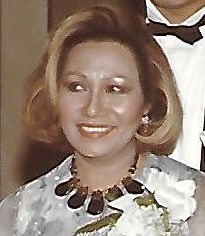 Pura R. Roundy (nee Ramos), 86, of Fort Lee, passed away on Tuesday, May 28, 2019. Beloved wife of the late Robert Roundy. Cherished mother of Marissa Mayid and partner Thomas Ficucello, Ruby Indrakosit and partner Victor Chadwick, and Ruben Roque II and partner Lydia Roque. Proud grandmother of five grandchildren—Kelly, Ilana, Reuben, Rachelle, and Michelle.
Pura was an immensely powerful, accomplished woman who instilled intellect, confidence, and love in all her children and grandchildren. In the 1960s, Pura was the first woman to serve as President of an entire shopping complex where she also independently owned and operated her own department store – unheard of during this generation. She then brought herbusiness, art, and fashion & jewelry designs to NYC for many years before retiring.
Visiting hours will be Sunday, June 2, 2019 from 11 AM to 1:30PM, followed by a prayer service from 1:30 PM to 2 PM, at the Pizzi Funeral Home – 120 Paris Avenue, Northvale, NJ (201-767-3050).
"If you would like to help other dementia victims like Pura, please donate to the Alzheimer's Association at alz.org"
www.pizzifuneralhome.com