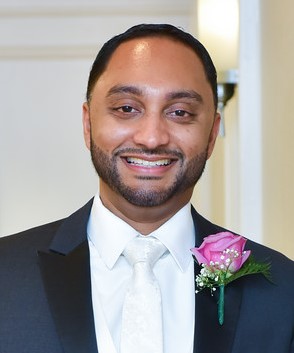 Abraham "Abe" Geevarughese was born March 26, 1982 to Mathew
Geevarughese and Aleyamma Geevarughese in the Bronx NY. He was a
younger brother to his sister Anita and older brother to their
youngest son Bobby. Abe was raised in Rockland County, NY and attended
St. Thomas Orthodox Church Yonkers NY, where he served as an acolyte
in the Holy Altar. He attended college at SUNY Albany, where he
graduated in 2004 with a degree in Information Technology and
afterward completed his MBA.
In 2016, Abe met Suzanne "Jess" Chirayil in New York and they married
on September 7, 2019 in New Jersey. They both enjoyed spending time
together watching movies, adventuring to different parts of the world,
and exploring new restaurants.
Abe was always generous with his time, especially when it came to his
family and friends. He loved football, traveling and cooking; his ham
recipes were always a hit during family get-togethers.
His early departure has left a void to all those who loved him. He
will always be remembered for being funny, selfless, compassionate,
welcoming, generous, and charismatic. He is survived by his wife Jess,
his parents Mathew and Aleyamma, his sister Anita, husband Philip and
nephews Noah and Josiah; his brother Bobby, wife Sally and niece
Naomi; his father-in-law Colman, mother-in-law Glory, sister-in-law
Tisha and husband Jomy; as well as many uncles, aunts, cousins and
friends.
Visitation will be on Friday, November 13, 2020 from 4-9 PM at St. John's Indian Orthodox Church, 331 Blaisdell Rd., Orangeburg, NY. A Service will be held Saturday, November 14, 2020 at 9 AM at the church with interment to follow at Tappan Cemetery, Tappan, NY.
Those who wish may view a live-stream of the wake and service through the following link:
In lieu of flowers, the family has asked for donations to be made on
behalf of Abe to the American Heart Association.