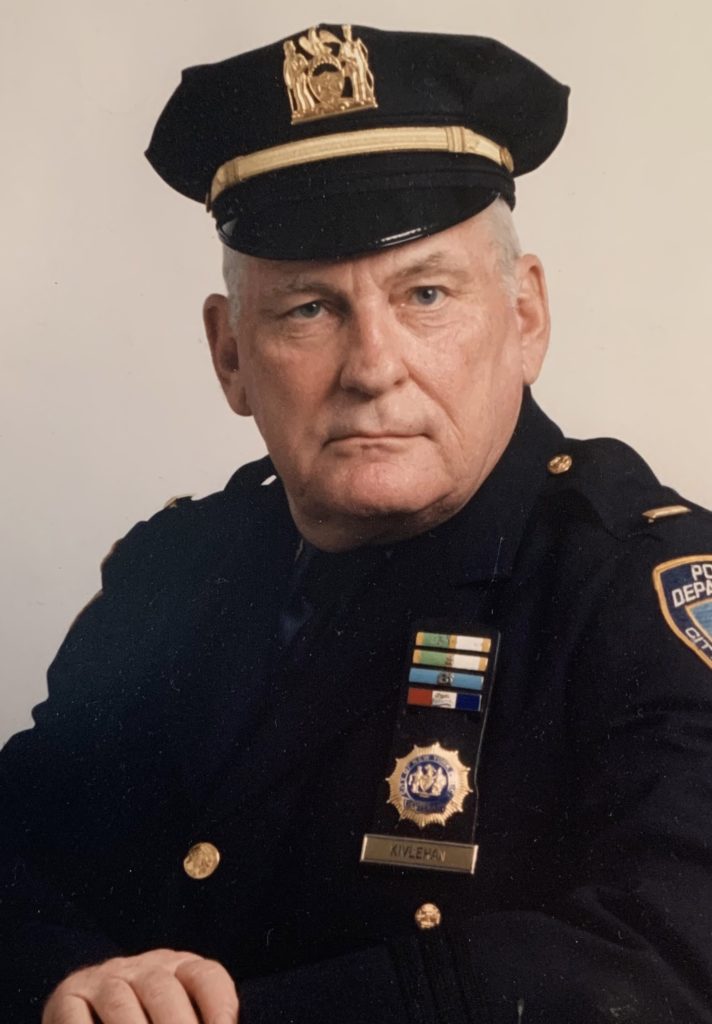 Donald Joseph Kivlehan passed away peacefully on December 4, 2020 at his home surrounded by his family. He was 87 years old. The son of Joseph and Ellen (Kissane) Kivlehan, he was born in Manhattan, NY, on August 25, 1933.
Donald proudly served in the NYPD from 1956 to 1994, covering five decades of great service. He retired as a Lieutenant and greatly loved being a member of the NYPD. He was a charter member of the Rockland County Shields and was a lifelong member of the NYPD Emerald Society serving many years on the Board. He had never ending memorable stories of his times being a New York City Cop. Donald is a veteran of the United States Army serving with distinguished honor in the 1950s for two years, attaining the rank of Corporal. The discipline and patriotism he learned in his service to his beloved City and Country never left him, as friends and family will attest. After Donald retired he enjoyed traveling with the love his life Marion and spending time with his children and grandchildren. He also loved playing golf with his buddies. He was especially proud of his July 1, 1999, Hole in One at Blue Hill Golf Course.
Donald was proud of his Irish Heritage and enjoyed listening and dancing to Irish music. He was an original member of the Irish-American Cultural Center in Blauvelt, NY and loved attending socials there. He was also a member of the Tappan Senior Citizen Club and enjoyed vacations and trips with them over the years tremendously. Donald most of all loved his family and his family loved him even more. He was a friend to everyone and will be remembered as funny, kind, generous manwho truly is a Legend.
Donald was a devoted member of St. Catharine of Alexandria Catholic Church in Blauvelt, NY.
Donald was predeceased by his loving wife Marion of 56 years. Survivors include his four sons James, Terence and his wife Anne Marie, Brian and William and his wife Christine. He will be remembered with love by his nine grandchildren Mary, Sean, Patrick, William, Ryan, Caroline, Christina, Kimberly and Katherine.
Donald was predeceased by his Mother Ellen and Father Joseph and his brothers Joseph and Kevin. He is survived by his brother John.
Due to the Covid 19 Pandemic a private Funeral Mass will be celebrated by his family at St. Catharine Church, Blauvelt, New York on Saturday, December 12, at 10 am but those who wish may watch a livestream of the mass through the link below:
https://www.youtube.com/watch?feature=youtu.be&v=punBJC7ZOPs
Funeral services will be provided by Pizzi Funeral Home , 120 Paris Avenue, Northvale, NJ, 07647. A future memorial mass and a celebration of Donald's life will take place at a later date due to the pandemic.
In lieu of flowers donations may be made to the NYC PBA Widows and Children's Fund, 125 Broad Street, 11th Floor, New York, NY 10004.