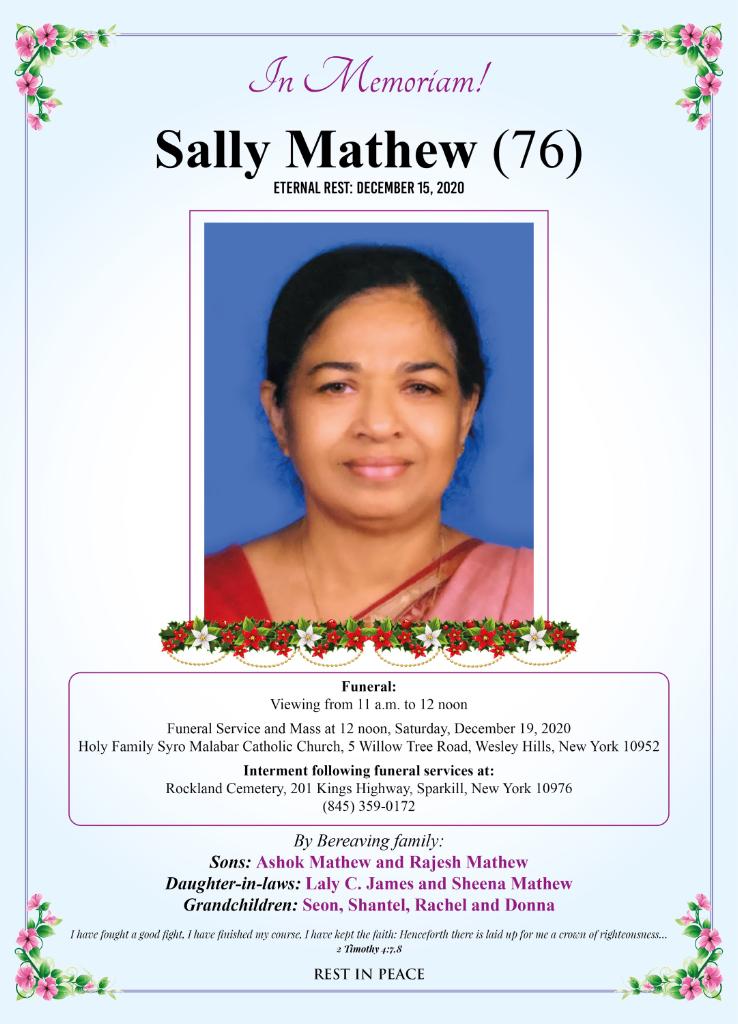 Sally Mathew 76, passed away on Tuesday, December 15th, 2020. Sally Mathew was the beloved wife of the late VT Mathew. She is survived by her two sons Ashok and Rajesh, daughters-in-law Laly C James and Sheena Mathew, and her grandchildren Shaun, Shantel, Rachel, and Donna. Sally Mathew was an amazing teacher who taught in India, and Nigeria. She lived in Northvale, New Jersey for the last 8 years with her son Rajesh Mathew.
Sally Mathew had an amazing passion for teaching children; even after she had retired she volunteered in the Holy Family Syro-Malabar church as a substitute CCD and Malayalam school teacher. She was an active member of the church as well as the Northvale Senior Citizen club. Sally loved participating in church skits and other programs.
She had a penchant for  culinary  art and enjoyed cooking delicious dishes  for her family and friends. Her choice subject in college  was Home Science. Sally was well disciplined and kept a diary of her daily activities. Her teachers were highly appreciative of her punctuality. 
Always bubbly, as a child; she had a store house of jokes. She was a mimic too. She brought a gleam of happiness every where. Her husband Babychan appreciated her goodness and supported her through out their life together. Both of them knew that happiness comes from mutual support. Together they faced their life without fear. They gained strength from faith in Jesus and overcame difficulties together. Even when they faced physical illness they groomed their sons to grow up to be wholesome young men. Sally always was a caring person who took care of her parents on both sides of the families. God blessed her with two great sons and their beautiful families. Even though she faced many challenges in her life she had such a strong and beautiful spirit.
www.pizzifuneralhome.com