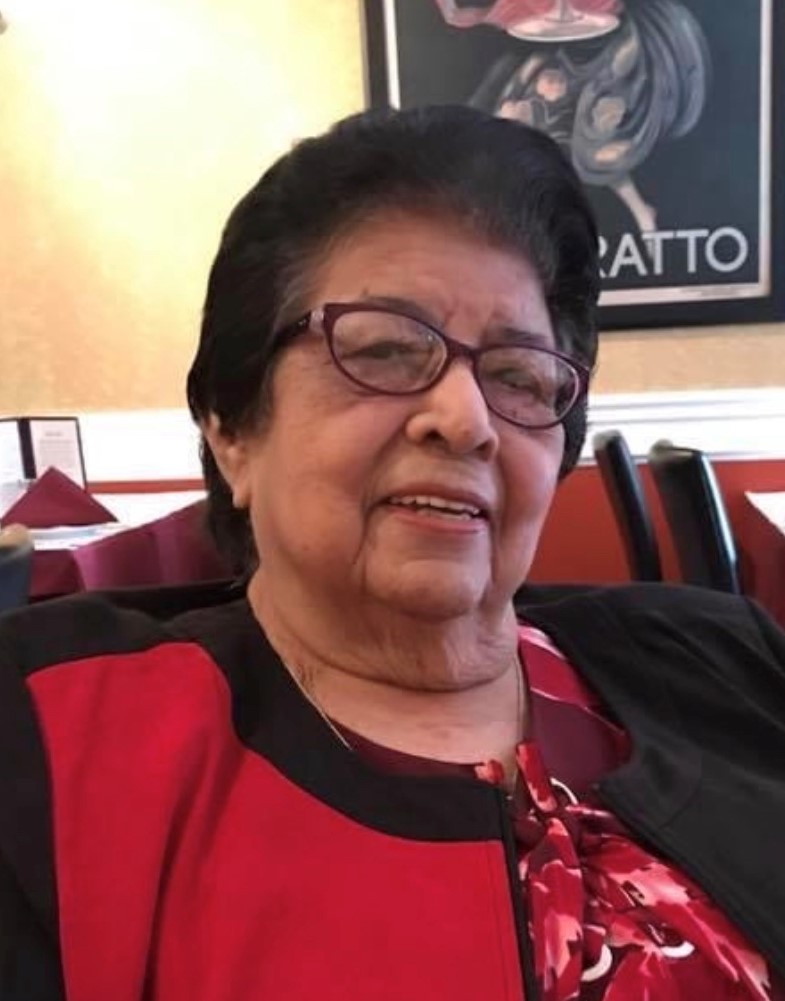 April 20, 1927 – January 8, 2022

Gloria Maria Meléndez, affectionately known as "Mamita," "Guela," "Tata," "Tatita," & "Chonchi," passed away peacefully at Stony Brook Hospital surrounded by the love of her family on the morning of January 8, 2022.
Adored mother of four children, Gloria is survived by her son, Alejandro Torres, and his wife Deborah Torres; her daughters, Idia Meléndez and her husband Luis Sabater Sr., Elsa Seguinot and her husband Victor Seguinot Jr., and Ana Bermudez and her husband, Carlos Bermudez Sr.
She was widowed twice: first to the late Alejandro Torres Sr., who was taken from her too soon, and, then widowed again, after more than fifty years of marriage to the late Dolores Meléndez.
Her five grandchildren survive her: Luis Sabater Jr., Carlos Bermudez, Jessica Torres, Alexis Torres and Alise Seguinot.

She also is survived by her six great-grandchildren: India Sabater, Nina Sabater, Kiannah Sabater, Anthony Sabater, Lily Contreras and Antonio Bermudez.
She was blessed with a long life full of love that allowed her to have a great-great-granddaughter Zaskyah Ortiz- Sabater.
Her family was her pride and joy, and she was so proud of them all for being so loving, driven, and successful.

On April 20, 1927, Gloria was born in Fajardo, Puerto Rico, where she worked as a nurse before moving to the United States, where she was married. Her husband, Dolores Meléndez, was a World War II veteran. Gloria raised her son and three daughters in Washington Heights, New York City, where she lived for 58 years. Gloria attended Bronx Community College and worked as a travel guide in several European countries. She later opened her travel agency, "Family Excursions."
One of her most extraordinary talents was as a songwriter and composer. Gloria composed music and lyrics, and many of her songs were recorded by various singers in Mexico, Argentina, Columbia, Puerto Rico, Dominican Republic, and the United States. She wrote and composed songs such as, "Ave Perdida", "Nadie se Muere Solo", "Me Voy a Olvidar", "Depende De Ti", "Eso te Creias" and "Cao Cao Mani Picao". She also wrote novels that were published in Ecos de Ella Magazine.

Gloria was a resident of Rockland County, New York, for the past eight years. During this time, she loved to spend quality time with family and friends at her residence. Most of all, she loved to cook great Puerto Rican food that some would consider chef-quality, especially her family. She is best known for her delicious pernil and arroz con gandules, but most of all, for her arepas. Gloria was the keystone of her family. She radiated love, compassion, and elegant power that allowed her to bring everyone together. She was also equipped with an immense love of family and friends; a razor-sharp wit, fun-loving humor, and a vibrant personality allowed her to light up any room, even on the saddest of days. She was greatly loved and respected by all.

Visiting hours are Friday, January 14, 2022 1:00 – 4:00 PM and 7:00 – 9:00 PM
Pizzi Funeral Home 120 Paris Avenue Northvale, NJ 07647 (tel: 201-767-3050)
The wake will be live streamed from
2:30 – 3:30 PM and can be viewed through the link below:
https://boxcast.tv/channel/gloria-maria-melendez-wake-service-610473

A funeral mass will commence on:
Saturday, January 15, 2022, at 10:00 AM at
Saint Anthony's Roman Catholic Church 199 Walnut Street,Northvale, NJ 07647 and can be viewed through the livestream link below:
https://boxcast.tv/channel/gloria-maria-melendez-funeral-mass-772744

Interment to follow at:
Frederick Loescher Veterans Memorial Cemetery 220 Brick Church Rd Spring Valley, NY 10977
In honor of Gloria Maria Meléndez and in lieu of flowers, family and friends can donate to any of the following organizations:
American Lung Association: https://www.lung.org
Crohn's and Colitis Foundation: https://www.crohnscolitisfoundation.org
American Heart Association: https//www.heart.org.
Florists: pizzifuneralhome.com