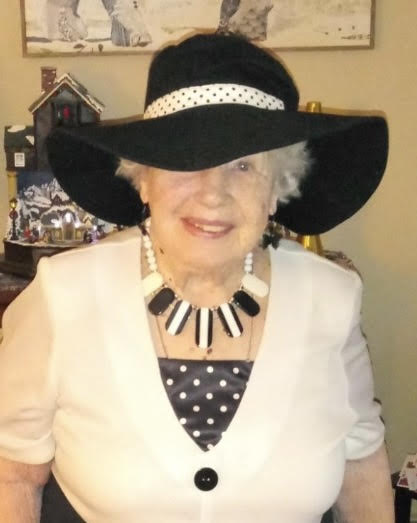 LaVina Blum (nee Fisher) 89 of Northvale, NJ formerly of Harrington Park, NJ and Johnstown, NY passed away at home on Wednesday, April 19,2023, surrounded by her loving family. It was a beautiful spring day with the lilacs in bloom and the smell of crab apple blossoms in the air.

LaVina was a loving mother of Steven Blum and wife Ellen, Reneè Binder and husband Matthew, Daniel Blum, Bridgit Carroll and partner John Saunier, and the late Russell Blum and wife Carol. Proud grandmother of Tim (Audrey), Nicolas (Emi), Geoffrey (Leah), Scott (Alexis), Alyssa, Samantha, Ashley (Antonio), Katelyn (Michael), Alexandra, Joshua, Oliver, Jacob, and the late Lesley (Bob). Cherished great-grandmother of Olivia (Luke), Mason, Linkin, Russell, Isabella, Alder, Brielle, and Amari. Dear sister of the late Robert Fisher, Warren Fisher, and Curtis Fisher. Also survived by many nieces, nephews and other loving relatives and friends.
LaVina (aka The Hat Lady) volunteered with the Harrington Park Ambulance Corp before moving to Northvale where she lived for 41 years. She enjoyed working for different businesses in the area when in 1992 she became the head Milk Lady at Norwood public school where she was recognized for her 25 years of service. During that time, she was also a crossing guard at Charles DeWolf school in Old Tappan. The kids looked forward to seeing what costume she would wear each Halloween. They were never disappointed.
LaVina was a friend, mom, grandma to anyone in need. While living in HP you could stop by at any given moment and find a crowd raiding her fridge or swimming in her pool. She always had things to do, places to go, people to see and would normally grab a grandkid or 2 for an adventure, especially garage sale-ing. Her love for a sweet treat, a good book, wildflowers (snip snip), and a great game of cards will never compare to the love she showed her family, her church (Trinity Reform), and her community. She will be missed by all and live on in the hearts of those lucky enough to have had the opportunity to be around her.

The Celebration of Lavina's life will be held on Saturday, September 23, 2023 from 1-4 PM at the Norwood American Legion Post 272, 480 Broadway, Norwood, NJ and can be viewed through the livestream link below:
https://boxcast.tv/channel/celebration-of-life-for-lavina-mae-blum-j5caosnefrrmdcjcf3dd
Donations to the Closter Nature Center in Lavina's name would be greatly appreciated. www.closternaturecenter.org