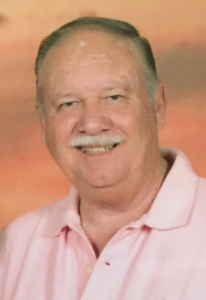 Carl T. Buscher, recently of Framingham, MA and formerly of Brick and Norwood, N.J. passed away peacefully at home with his wife and family at his side on Thursday, July 6, 2017. Dearest husband of almost sixty years to his wife and soul-mate Ann (nee Cappadona); loving father of Elizabeth Demartini and husband Douglas of Warwick, N.Y., Peter C. Buscher of West New York and Toms River, N.J., and Kathryn Demartini and husband John of Charlton, MA; proud grandfather of Steven Demartini and his wife Elizabeth, Joseph, Justin, and Carolyn Demartini, and Adriana Gubich and her husband Gilson; great-grandfather (Opa) of Ava, Isabella, and Maverick; brother of Marianne Reiman of Ringwood, N.J. In addition to his family, Carl had many long-time close friends who will miss him dearly. He will also be remembered as the "Cookie Monster" to his favorite four-legged family pets.
Mr. Buscher began a 32-year distinguished career as an association executive and editor, which included positions with the Builders Association of Northern New Jersey, the Northwest Bergen Board of Realtors, the Maryland Builders Association, the New Jersey Builders Association, and the New Jersey Dental Society as the managing editor of the Journal of Dentistry. He was a long-time member of the American Society of Association Executives.
A veteran Scouter for 60 years, Mr. Buscher was a former Scoutmaster, Explorer Advisor, District Commissioner, and member of the Executive Board and President's Advisory Council of the Bergen County Boy Scout Council. He was the founder of the Palisades Historic Trails in 1976, and also received numerous awards including the Silver Beaver, the Bronze Pelican, and the St. George Medal.
A Past Grand Knight of Immaculate Conception Council 9021, Knights of Columbus, Past Faithful Navigator of Msgr. Charles G. McCorristin Assembly 1289, 4th degree, and former District Deputy to the Supreme Knight, Mr. Buscher was also an active member of the K of C Color Corps. He led K of C fund-raising campaigns to construct chapels at two Boy Scout camps in northern New Jersey.
As a forty-eight year resident of Norwood, Carl served his community as past President of the Board of Health, vice-president of the Board of Education, member of the Zoning Board of Adjustment, and Chairman of the Cable Television Committee.
Funeral services will be held at Pizzi Funeral Home Northvale, on Tuesday, July 11 from 4 – 8 p.m. A mass to celebrate Carl's life will be at St. Anthony's R.C. Church in Northvale on Wednesday, July 12 at 10:00 a.m. Entombment at Garden of Memories in Washington Township will follow. In lieu of flowers, Mr. Buscher asked that donations in his memory be made to the Knights of Columbus, 211 Summit Street, Norwood, N.J. 07648.
www.pizzifuneralhome.com