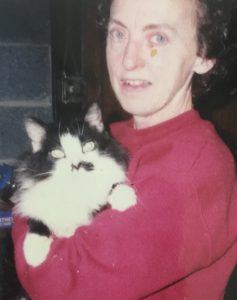 Arlene Duerr, 80, of Rockleigh since 1973, passed away on August 5th, 2017. Beloved daughter of the late Joseph and Catherine Duerr. Sister to Joseph D Duerr and the late Christiane Duerr Arnold and loving Aunt to Eric, Joe, Christa, Michael and Mathew.
Arlene had worked as an executive secretary in NYC for many years at Sanforized. Upon retiring she worked at the school district in the administration office. She was a lover of all animals and dedicated her life to rescuing, neutering and caring for cats. She loved each and every cat that came into her life and had a special touch of healing them when they would fall ill or injured.
Arlene was a devout Catholic and never missed Sunday mass.
A funeral mass will be celebrated Saturday, September 23rd @ 11am at Our Lady Sacred Heart located at 120 Kings Highway Tappan, NJ in the chapel. In lieu of flowers please make a donation to Bergen County Animal shelter & adoption center 100 United Lane Teterboro, NJ. www.pizzifuneralhome.com