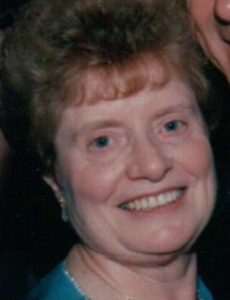 Maria Libera Venezia (nee Matera), 82, of Emerson, formerly of Northvale, died peacefully at home surrounded by her family on February 22, 2018.
She was born in Italy on Sept. 6, 1935, and came to the United States at age 13. She started work as an embroidery seamstress, then became a master craftswoman of custom window treatments. Most of all, she was devoted to all things related to her family. Her gifted hands cooked, sewed, crocheted, and made floral arrangements. She volunteered for schools and churches, and was a member of the Northvale Fire Department Ladies Auxiliary in the 1970s.
She was a parishioner at St. Andrew's R.C. Church in Westwood, and formerly of St. Anthony's R.C. Church in Northvale. She held deep devotion to the Rosary and Mary, and attended Mass almost every day.
She is survived by her beloved husband of 60 years, Rocco; her cherished children, Joyce Venezia Suss and husband Sherwin; Lisa Venezia Thomas and husband Charles; and Anthony Venezia; her treasured grandchildren, Jacqueline (Robert), Jeanette (Matthew), Rebecca, Mollie, Nicholas, and Elizabeth; her brothers, Gennaro, Biagio, and Joseph; and many cousins, nieces and nephews. She was predeceased by her twin sister, Pasqualina Gramuglia, and her parents, Cristina and Nicola Matera.
Visitation is Monday from 3-8 PM at Pizzi Funeral Home, 120 Paris Ave., Northvale (201-767-3050). A Funeral Mass will be celebrated Tuesday at 10 AM at St. Anthony's RC Church, Northvale. Entombment to follow at Madonna Mausoleum in Fort Lee.
In lieu of flowers, memorial donations can be made to the non-profit Eternal Word Television Network, 5817 Old Leeds Road, Irondale, AL, 35210, or https://donations.ewtn.com
www.pizzifuneralhome.com