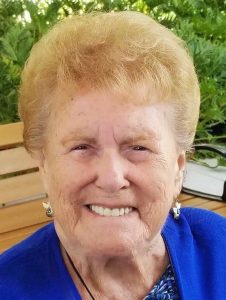 Former Piermont resident Eileen T. Carley (nee Maye) died on May 30, 2018 in Port St. Lucie Florida, surrounded by all of her adoring children.
Daughter of Thomas and Mary Maye (nee Gallagher), Eileen was born on June 17, 1938 in New York City, where she graduated from St. Nicholas of Tolentine. She met the love of her life, Thomas Carley, in her South Bronx neighborhood. They were wed on June 21, 1958. In 1971, Tom and Eileen moved their growing family to Piermont, NY. While devoting herself to caring for her children she found time to participate in community life. She served as lector and CCD teacher at St. John's in Piermont, and was a pioneer in the Conservative party in New York. As her children grew more independent, she reinvented herself as a career woman, rising from cashier to regional supervisor with Catskill OTB. Her family was proud of her success. In her spare time, she enjoyed playing all kinds of games, which she usually won. Eileen threw fabulous parties, whether tailgating at Giants games or at the many gatherings she hosted. Tom and Eileen's later years were spent enjoying retirement in Florida, where Eileen's life was enriched by dear friends made in Port St. Lucie.
Eileen was pre-deceased by her devoted husband Thomas in 2014. She is survived by her six children: Kathleen Harris (Scott) of Bronxville, Thomas (MaryBeth) of Blauvelt, John (Maria) of Port St. Lucie, Florida, Jean Dennehy (John) of Piermont, Mary Carley-Pilon (Philippe) of Paris, France, and Peg DeGennaro (Ken) of Northvale, NJ; 20 cherished grandchildren Scott (Ashley), Bobby (Taber) Kelly and Brian Harris; Tommy, Meagan, Mary and Maeve Carley; Maggie and Michael Carley; John, Kristen, Brendan and Kevin Dennehy; Luke and Sophie Pilon; Carley, Lauren, Marin and Katie DeGennaro, and three great grandchildren Andrianna, Angelo and Ava Harris; two sisters, Mary Holt of New City, and Patricia Fitzmaurice of Bergenfield, NJ and will be remembered fondly by many nieces and nephews. She was predeceased her sisters Nora and Bridget.
She will be deeply missed and remembered for her devotion to her family, her sharp wit and her sunny smile that touched all who crossed her path.
Calling hours will be held on Sunday from 2-5 and 7-9 pm at Pizzi Funeral Home in Northvale, NJ. A Mass of Christian Burial will take place on Monday at 10 a.m. at St John's in Piermont followed by burial at Rockland Cemetery in Sparkill, NY.
In lieu of flowers, donations can be made to Dominican Sisters of Blauvelt or Treasure Coast Hospice in Fort Pierce, Florida.
www.pizzifuneralhome.com