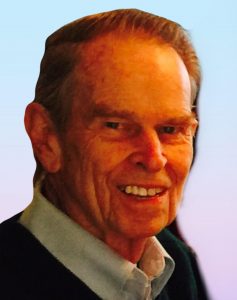 Jeremiah M. Kane
Jerry Kane, 84, of Denville, New Jersey, passed away peacefully on July 14, 2018 after a long struggle with Alzheimer's Disease.
Jerry was born to the late Jeremiah and Mary (Coughlin) Kane on September 14, 1933, in the Bronx, New York.  He attended Cardinal Hayes High School, then joined  the Navy where he served on an aircraft carrier in the Pacific .  After returning from his service, Jerry graduated from Fairleigh Dickinson University with a degree in Electrical Engineering.  Upon completing his degree, Jerry was employed as an electrical engineer by General Electric working on the famous GE exhibit at the 1964 World's Fair.  Jerry then went on to work at Louis Allis and Reliance Electric for many years.
In 1958 Jerry married Marie Kane and started a family.  He is survived by three of their four loving children and their spouses: Mary Kane and Jack McMaster of Basking Ridge, NJ; Michael Kane and Loretta (O'Brien) Kane of Tappan, NY; and Susan Kane of Asheville, NC; along with six of their seven grandchildren: Mike, Matt, Bobby and Danny McMaster, and Danny and Chris Kane; his two loving sisters: Mary Kane of Blauvelt, NY and Ann Mellett, and her husband Bill, of Suffern, NY; and his beloved cousin, the late Patricia (Cullen) Kiernan of Potomac, MD.  He was predeceased by his beloved son Danny Kane in 1983, and grandson baby Michael Kane in 1997.
The family will be receiving friends on Sunday, July 22, 2018 from 2 – 4 and 7 – 9 pm at the Pizzi Funeral Home at 120 Paris Ave., Northvale, NJ  07647.  The Funeral Mass will be celebrated at 10:00 am on Monday, July 23, 2018 at St. Catharine's Church located at 523 Western Highway, Blauvelt, NY  10913.  Interment will follow at Ascension Cemetery, 650 Saddle River Road, Airmont, NY  10952.
www.pizzifuneralhome.com