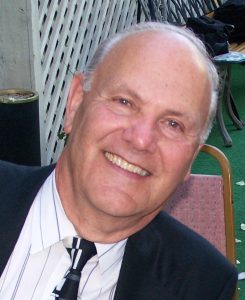 Robert Saunders, 81, of Tappan, freed himself of his earthly limitations on Monday, August 13, 2018. Born on April 11, 1937, in Manhattan and raised in the Bronx, he married his love Sandra Edelstein on June 26, 1958. Bob and Sandi recently reached their 60th anniversary and spent more than 50 happy years in their family home in Tappan, NY. Adored father of Sharyn Wander of Sugar Loaf, NY and Cynthia Flood and husband Terrence of Chester, NY, cherished grandfather of Heather, Vicki and Brianna, beloved son of the late Harry and Rose Saunders and dear brother of the late Bernice Lanse, he leaves behind nieces and nephews whom he held close to his heart.
A proud veteran of the U.S. Army, he served in Germany from 1956-1958. He was a self-employed businessman in Manhattan for his entire career. When not with family, he was most content competing on the golf course. Retirement found him happily as a ranger on Blue Hill Golf Course for many years.
He will be remembered for his commanding physique which embodied a sharp mind, quick wit, playful spirit and gentle, loving heart.
A service will be held for friends and family on Sunday, September 9, at 11:00am at Pizzi Funeral Home, 120 Paris Avenue, Northvale, NJ 07647.
www.pizzifuneralhome.com