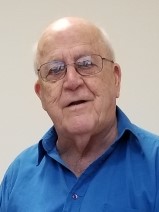 Anthony Louis, Anacleto, Raimondo DiPaola, 91, of Harrington Park, NJ, died peacefully on Sunday, September 2, 2018. Anthony was the beloved husband of the late Louise DiPaola to whom he was married for 50 years. Anthony was born in The Bronx in 1927. He and his loving wife, Louise, met and married at Mount Carmel Church in the Bronx and later moved their family of six to Rockland County, NY. Anthony was a Veteran WWII U S Army. A 1949 graduate of Manhattan College, Anthony worked for the State of New York, Insurance Department as a Senior Examiner and was able to enjoy retirement for close to 30 years. He enjoyed reading and spending time with his friends and family.
A loving father, Anthony is survived by his daughters, Susan Joyce, Frances DiPaola, Barbara Porter, Son-in-Law, John Porter and his son, Douglas DiPaola and Daughter-in-Law, Joanne DiPaola; and five grandchildren, with whom he shared a close and special relationship: Anthony and Francesca DiPaola, Elizabeth and John Fruhmann and Marisa and Scott Carrothers. A funeral Mass will be held at The Church of the Immaculate Conception in Norwood, NJ on Wednesday, September 5 at 10:00 a.m. Visitation is Tuesday 4-7 p.m. at Pizzi Funeral Home, Northvale (201-767-3050).
Interment will follow at Saint Catharine's Cemetery in Sea Girt, NJ where he will rest beside his wife, Louise.
In lieu of flowers, Memorial Gifts may be made in Anthony's name to:
Homes for Veterans, https://www.homesforveterans.us/
www.pizzifuneralhome.com