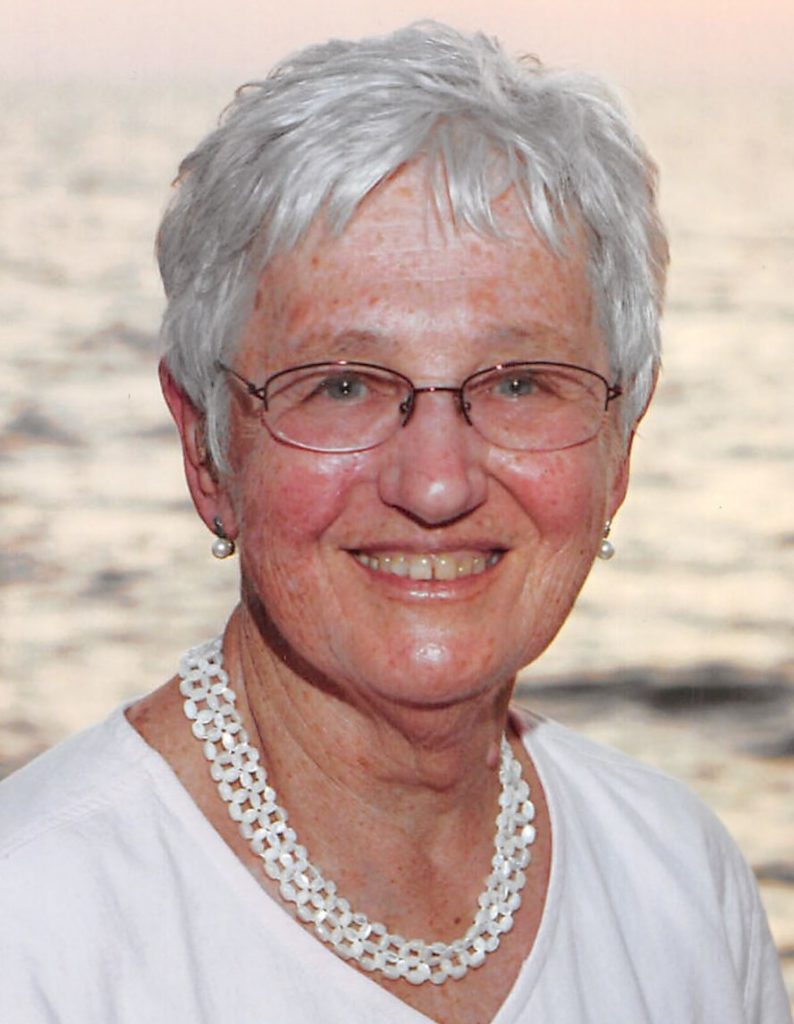 Catherine Marie Sprague, nee Green, of Norwood, died on February 18 in her home of 66 years surrounded by her family. She was 91.
            Catherine was a humble servant of the Lord.  She devoted her life to her large family.  She was a loving and nurturing wife, mother, grandmother and great-grandmother.  She calmly managed the chaos of seven active children and a spirited German Shepherd.  Her gentle and selfless spirit will live on in those she loved.
Catherine was born in the Bronx on July 17, 1928, to Frank H. and Catherine N. Green. Catherine grew up in Dumont as the eldest of four children. She graduated from St. Cecilia's High School in Englewood where she met the love of her life, Allan W. Sprague of Haworth. They married on November 11, 1950, and resided in Teaneck.
Catherine attended business school and worked at a bank in Manhattan. In 1954, Caltherine and Al moved to Norwood where they raised their seven children. They worked tirelessly raising money for the opening and operation of Immaculate Conception School in Norwood from which all their children graduated. Catherine found the time to volunteer as a Girl Scout leader and served as president of the Rosary Altar Society of Immaculate Conception Church in Norwood. Catherine was an avid bridge player, gardener, and enjoyed spending time on Long Beach Island with her family. Catherine traveled extensively, including epic trips to Ireland, Israel, and Alaska.
Catherine was predeceased by her parents, and by her husband (1997) and her daughter, Margaret Rose Sprague (1995).
Catherine is survived by her two brothers, Joseph F. Green of Toms River and Robert J. Green and his wife, Barbara, of San Diego. She was predeceased by her sister, Catherine A. Green, a School Sister of Notre Dame, and her sister-in-law, Anne Green with whom she shared a friendship which began in high school.
Catherine is survived by six children: Michael, and his wife, Julie, of Norwood; Stephen, and his wife, Margaret, of Roanoke, Virginia; Judy Sprague of Jacksonville, Florida; Jerry, and his wife, Sally, of Cape Coral, Florida; Eileen Sprague of Norwood; and Mary Sprague of Norwood.
Catherine (Grandma Smirkems) is survived by nine grandchildren: Caitlin (Ryan) Stephenson, Karalin Sprague, Kelsi Sprague, Elizabeth (Leif) Wood, Deborah Sprague, Hannah Sprague, Sarah (Steven) Smith, Robert Hammer, and Christian (Jessica) Sprague.
Catherine ( GG) is survived by eight great-grandchildren: Zachary, Rya, Eowyn, Connor, Beatrice, Galilee, Bernadette, and Owen. She is survived by 23 nieces and nephews.
Catherine also is survived by her devoted and long time caretaker, Carole Meisse, whom she introduced as her "co-worker." The family thanks Catherine's three daughters for their years of dedicated and loving care which allowed mom to remain in her home throughout her illness.
The family will receive relatives and friends on Friday, February 21, 2020, from 4 – 8 p.m. at Pizzi Funeral Home, 120 Paris Avenue, Northvale. A funeral mass will be held at Immaculate Conception Church, 211 Summit Street, Norwood, on Saturday, February 22, 2020, at 10:00 am followed by burial at Rockland Cemetery in Sparkill, New York.
In lieu of flowers, Catherine's family requests that you consider a donation to the School Sisters of Nortre Dame, Care For Senior Sisters, Development Office, 345 Belden Hill Road, Wilton, Connecticut 06897-3898. A donation may be made on line at www.amssnd.org.
www.pizzifuneralhome.com