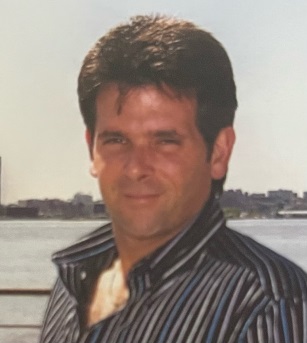 Geoffrey Stephen Maneri of Englewood, Florida passed away on Friday July 16th, 2021 at the age of 54 surrounded by his loving wife and family.
Geoffrey is survived by his devoted wife Patricia of Englewood, Florida and her daughters Cheryl, Denise and Serena; his loving mother Mary Maneri of New York; his son Eric Maneri of Tennessee; his three grandchildren Mahayla, Brysin, and Liam; his sisters and their families: Maryalice Maneri and her four children, Lisa and Barry VanSise and their son, Alexis and Stephen Maloney and their three children, Nancy and Todd Miller and their two children; his brother Philip Maneri and Anderson Sanches; and his loving great nephews.
Geoffrey was predeceased by his father Philip Maneri.
Geoffrey was born in the Bronx, New York to Mary and Philip Maneri on November 3rd, 1966. A graduate of Tappan Zee High School, Geoffrey spent most of his adult life in Transportation and Logistics. Geoffrey's exceptional knowledge of engineering and mechanics allowed him to follow his passion of inventing which led him to receive a US Patent on May 16th, 2012.
On June 10th, 2006 Geoffrey married the love of his life, his adoring wife of over 15 years, Patricia. Together, they followed their dreams and moved to Florida and built a wonderful life there.
Geoffrey enjoyed spending time with his loving wife and family. He was a gifted guitarist. He had a love of sports — especially hockey and the New York Rangers. He enjoyed fishing, biking, bowling, playing pool, automobiles and the beach.
A memorial service will be held at Pizzi Funeral Home, 120 Paris Avenue Northvale NJ 07647, on Saturday July 31st from 3:00-5:00pm.
In lieu of flowers, memorial donations in Geoff's name may be made to the Tidewell Hospice and Palliative Care tidewellfoundation.org or to the Alzheimer's association act.alz.org
 Condolences for the family may be offered online at www.pizzifuneralhome.com