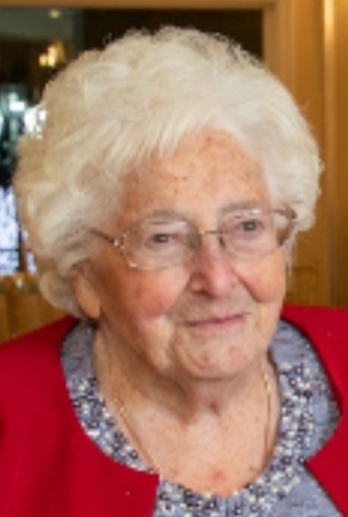 Margaret Lynch, "Peggy", beloved mother, grandmother, great-grandmother, aunt, great-aunt, cousin and friend died Saturday, April 30, 2022 at Valley Hospital, Ridgewood, NJ. She was 89 years young and a resident of Old Tappan, NJ.
Peggy was born Margaret Mary Rahilly on September 23, 1932 in Toureen, Fineen, Rockchapel, County Cork, Ireland to parents Denis and Johanna Rahilly, both deceased. She emigrated to the United States in 1948 and lived in Paterson, NJ with her uncle, Thomas Rahilly. Peggy was a long-time resident of the Bronx, St. Nicholas of Tolentine Parish and of Yonkers, St. Paul the Apostle Parish. She looked forward to spending Holidays and Feast Days with her family at these parishes.
Peggy was predeceased by her beloved husband Patrick and sons, Denis and Fr. Thomas, as well as her siblings, Eileen Gill, Joan Lane and Denis Rahilly.
She is survived by her sons: John Joe and wife Dolores, Patrick and wife Margaret, Timothy and wife Mary, Kevin and wife Maureen, and Maurice; grandchildren: Lara, Kerry Ann, Timothy, Laura and husband John, Patrick, Robbie, Jillian, Kevin, Aedan and Michael and her great-grandchildren: Audrey and John. Also survived by many loving nieces and nephews.
Peggy's faith and love of family inspired all who knew her. She actively recited the Rosary every day and prayed for all of her loved ones. She enjoyed time with her family and friends, lighting up the room when she smiled and laughed. She enjoyed speaking on the phone with her friends and sisters. She was an avid Jeopardy and Wheel of Fortune watcher and could often be seen with her dictionary in hand solving the daily jumble puzzle in the newspaper, eager to solve it before speaking with her sister Eileen.
Peggy loved being near the water. When her sons were young, she would take them to Orchard Beach, sandwiches packed for lunch. In her later years she enjoyed time with her family at the Jersey shore in Ortley, NJ. She welcomed all friends and family to spend time with her there.
In addition to lovingly caring for her seven sons, she worked in Eldercare where her wards became part of her family. She brought her grace, love and wit to fulfil her duties in this capacity. Later in her career she worked at St. John Neumann residence, where she was devoted to all who were entrusted to her care.
Peggy will be fondly remembered by all who knew her. She took care of anyone in need. In her memory, please recite the Rosary regularly as she was devoted to the Virgin Mary.
Visiting hours are Tuesday, May 3, 2022 from 4 – 8 PM at Pizzi Funeral Home, 120 Paris Ave, Northvale, NJ (201-767-3050). A Funeral Mass will be celebrated Wednesday, May 4, 2022 at 10 AM at St. Aedan's Church, Pearl River, NY with interment to follow at Gate of Heaven Cemetery, Valhalla, NY.
In lieu of flowers, donations in Peggy's memory be made to Edward Cardinal Egan Pavillion, 5655 Arlington Avenue, Bronx, NY 10471.
www.pizzifuneralhome.com