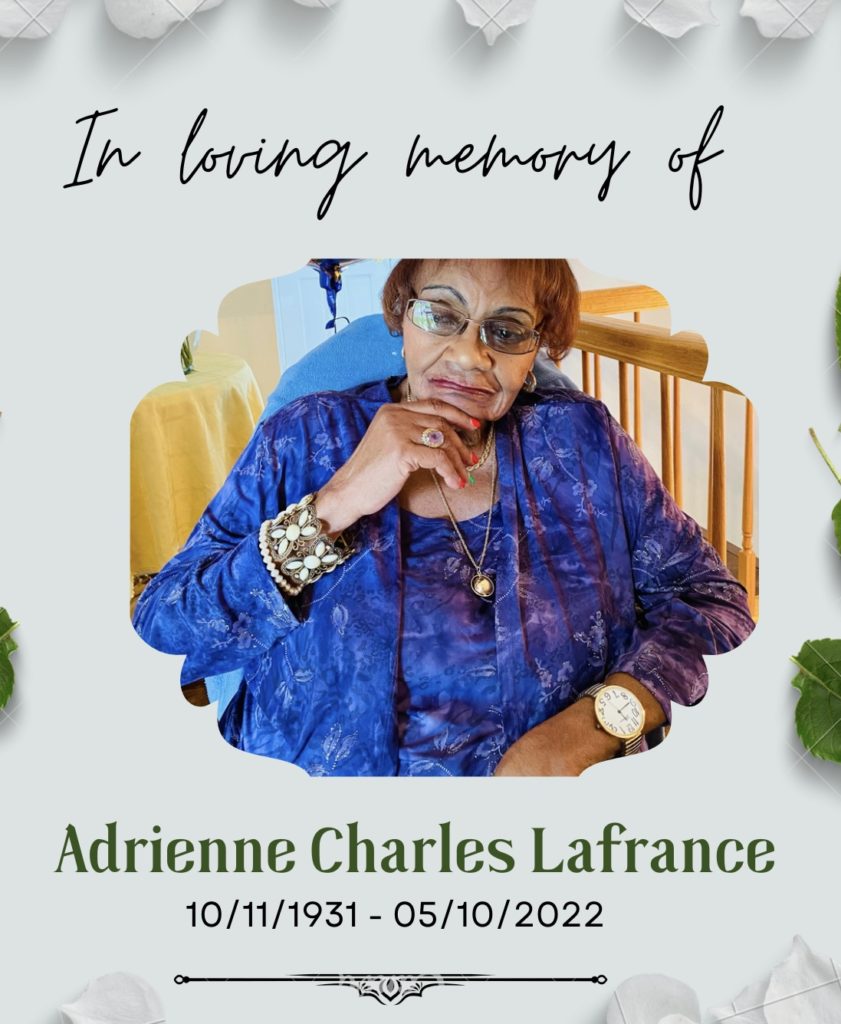 Adrienne Charles Lafrance, joined our Lord on May 10, 2022 at the age of 90 years old. She emigrated from Haiti in 1976 and lived in East Orange, New Jersey. Adrienne was an accomplished seamstress who had a talent for embroidery. She was a devout Catholic who attended mass at Immaculate Conception Church and a devotee of St. Joseph. She was present at every pilgrim ceremony. Adrienne would always share with the poor. She made many donations in her lifetime.
She had endless love for her family and enjoyed cooking as a pastime. She would dance salsa to her favorite artist, Celia Cruz. Everyone who was close to her knew that Adrienne Lafrance was a strong and resilient woman. Even in her toughest times she would always push through. She was a fearless mother of three. She was a brave and loyal woman. In the face of adversity, Adrienne would never give up and would only rest once she has won. When life threw a challenge at her she would defeat it. Adrienne was dear to many, and will be missed by all that were graced with her presence.
Adrienne was a beloved wife of the late Antoine Cerant Lafrance. Loving mother of Jimmy Lafrance, Renee Lafrance Auerbach and her husband Russell, Rebecca Lafrance, Judith Nelson and Fouger Philibert. Dearest sister of Houmer Charles, Jean Dominique Charles, Germaine Luceus, Paranie Charles, and Bleuette Charles. She is also survived by the Lafrance family, Charles family, Thomas family, Daphenis family, Merisier family, Philibert family, Luceus family, Nicolas family, and Thelusma family.
Viewing will be held on Tuesday, May 17, 2022 from 5-8 PM at the Pizzi Funeral Home, 120 Paris Ave, Northvale, NJ. A funeral mass will be celebrated on Wednesday, May 18, 2022 at 11:30 AM at St. Joseph's Church, 44 Benvenue Ave, West Orange, NJ with entombment to follow at George Washington Memorial Park, Paramus, NJ. A small gathering after the mass will be held at Oceanos Oyster Bar & Sea Grill from 2-5 pm at 2-27 Saddle River Rd. Fair Lawn, NJ 07410