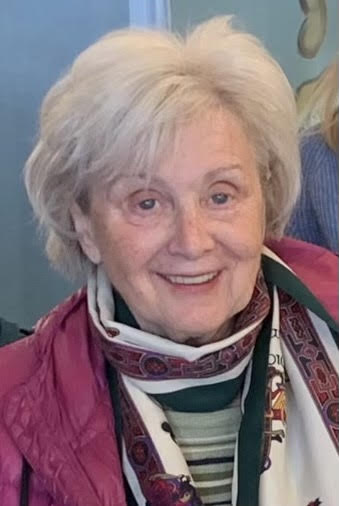 Bernadette Anne O'Donnell (nee McGarry), 85, of Tappan, NY for over 50 years, passed away peacefully in her home on Wednesday, October 19, 2022. Bernadette was born in Rathowen, Ireland, the youngest of eight children. She loved her country home and lifelong friends and family. Bernadette graduated from University College Dublin and became an English and French High School teacher. In addition to teaching, she spent time with her own sisters and their fellow nuns of the Sisters of St. Joseph of Cluny in Ferbane, Co. Offaly.
While a teacher, she met her beloved husband, John Joseph. After an international courtship, they were married in St Mary's Church in Rathowen on July 1, 1967 and made New York City their home before moving to Tappan.
Bernadette was a kind, caring and loving wife, mother, grandmother, aunt, sister and dear friend. She was happiest and at her best when caring for others, quick with a kind word and a helping hand. No matter the situation, she was always putting others before herself. She will be fondly remembered for her soft smile, kind spirit and wonderful meals. The mashed potatoes were perfect, and you couldn't say no to her Irish scones or another slice of her apple pie. If you were a friend of the O'Donnell family, you were family to Bernadette, and always welcome.
A devout Catholic, Bernadette went to mass daily, prayed the rosary, and offered up her day in prayer. She made many special friends at daily mass, who shared in each other's joy and helped in times of need. She was especially at home at Our Lady of the Sacred Heart parish.
Bernadette was predeceased by her husband John and her cherished son, John (Kathleen). She was the devoted mother of Maryclare Ouderkirk (John) of Blauvelt, NY and Neil O'Donnell (Meghan) of Rye, NY. Proud grandmother of John (J.J.), Johnny, Liam, Sean, Devon, Timothy and Ryann. Dearest sister of Philomena Rooney and the late Maureen, Peggy, Mel, Patrick, Eamon and Michael McGarry. She is also survived by her loving sisters-in-law, Bridget and Catherine. Bernadette delighted in time spent with her beloved extended family the Cassanos, McGowans, McGarrys and Rooneys.
Visiting hours are Sunday, October 23, 2022 from 2-6 PM at Pizzi Funeral Home, 120 Paris Ave, Northvale, NJ (201-767-3050). A Funeral Mass will be celebrated on Monday, October 24, 2022 at 10 AM at Our Lady of the Sacred Heart, 120 Kings, Highway, Tappan, NY with interment to follow at St. Anthony's Cemetery, Nanuet, NY.
In lieu of flowers, donations in Bernadette's memory may be made to the Cystic Fibrosis Foundation, www.cff.org.