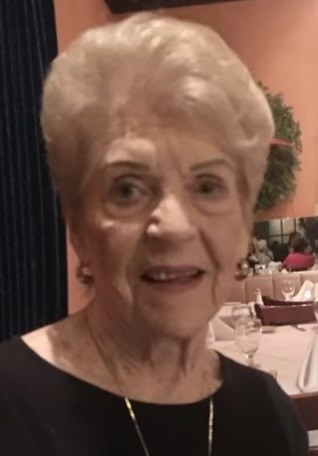 A strong woman is the lifeline of her family. She carries within her the power to endure pain and the courage to sacrifice. She has the power to create and nurture life. She is indeed the epitome of love and sacrifice. -Aarti Khurana
We are sad to announce the passing of Norma Mattiace (nee Boyd) the matriarch and lifeline of our family. Mrs. Mattiace, of Closter and formerly of Bergenfield, passed away at the remarkable age of 93 on October 27, 2022. Mrs. Mattiace was predeceased by the love of her life, Nicholas Mattiace, who she was married to for 66 years until his death in 2013. Mrs. Mattiace was a proud mother, grandmother and great grandmother and the lynchpin of the family. Mrs. Mattiace is survived by her five, beloved children and their spouses: Linda & Tony Zappulla of Forked River, Nicholas & Barbara Mattiace of Hillsdale, Steven & Suzanne Mattiace of Old Tappan, Lisa & Kevin Battell on Emerson, and Lori Mattiace & Pete Mucciolo of Hillsdale. Norma was the cherished grandmother to Kimberly, Cheryl, Jill, Nicholas, JoAnn, Lisa, Melissa, Sara, Daniel, Kristian, Olivia, Zachary, Kassidy and Kamryn, and great-grandmother of Paul, Julia, Joseph, Nicholas, Connor, Tyler, Gracyn, Evan, Matthew, Ella, Maelyn, Charlotte, Jack, Riley and Nicholas.
Mrs. Mattiace is very proud of her roots having been born in Hamilton, Bermuda where she spent her formative years with her four siblings and mother before moving to New York City at the young age of 16. She is survived by her sister Ruth of Toledo, OH, and predeceased by her siblings Robby, June, and Betty.
When Norma's kids were young, the phrase "stay-at-home-mom" didn't exist because this was the norm for the era. But even by the standards of the era when her children grew up and to this day, Norma was an exceptional wife and mother. If a person has a good mother in their life, they should be considered lucky, we are beyond blessed because we had an amazing, resilient, and caring mother/grandmother/great-grandmother who led by example. She dedicated her life to her family, and for that we are all eternally grateful. There are not enough words to do Norma justice, but a testament to her life and legacy lives on in all those she leaves behind who have been loved by this truly remarkable woman.
A funeral mass will be celebrated Monday, October 31st at 10 AM at St. Pius R.C. Church, Old Tappan with interment to follow at Mount Carmel Cemetery, Tenafly. Visiting hours are Sunday, October 30th from 2-5 at the Pizzi Funeral Home, 120 Paris Avenue, Northvale. www.pizzifuneralhome.com