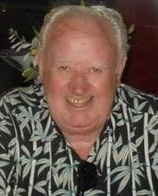 John "Jack" Finnegan 82, passed suddenly on Saturday April 8, 2023, with his wife Joan by his side. John was born November 22, 1940, in Liskea, Williamstown, Co. Galway Ireland, one of 10 siblings.
He immigrated to the United States in 1959 where he built his life, served proudly in the United States Army, and became a Commercial Plumber and a member in the International Union Local 1 retiring in 2002 with more than 50 years membership.
Married the love of his life Joan (nee O'Keeffe) in 1966 in the Bronx, New York and few years later, moved to Chestnut Ridge, New York, where the resided for about 32 years until retiring to Ormond Beach, Florida for the next 21 years, where he enjoyed traveling, sunshine and golf.
Jack was a cherished husband, devoted father, and tremendously proud grandfather. He was always quick with jokes, loved reading, enjoyed watching sports, his sons playing football and baseball and most recently his grandson Kieran's pitching while at Oswego State University. However, all things golf was his true passion in his later years.
Jack is survived by his wife Joan, son and daughter-in-law, Martin and Eileen Finnegan, daughter and son-in-law Jennifer and Brendan Cunningham, grandson Kieran Finnegan, granddaughters, Maura, and Emma Finnegan, along with his siblings Mae, Bridie, Jimmy, Eamon and Peter and a host of extended family in the United States, Ireland, England and Scotland.
Jack is predeceased by his beloved son John Denis, and Jack's siblings, Shelia, Pat, Martin, and Margaret.
Jack will be remembered for his work ethic, his humor, laughter, and kind ways.
A mass of the Celebration of life will be held at Our Lady of the Sacred Heart in Tappan NY Saturday May 6th at 11:00 a.m.
A viewing will be held at the Pizzi Funeral Home in Northvale, NJ on Saturday May 6th from 1 to 4 pm.
Interment will be San Lorenzo Cemetery, The Holy Family Columbarium in St. Augustine Florida.
Jack will be forever in our hearts and will eternally remain the love of our lives.