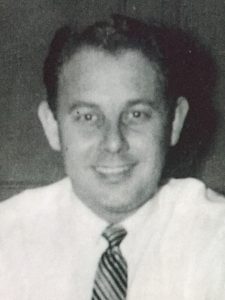 Joseph J Esposito, 94, of Northvale, NJ passed away peacefully on June 6, 2017.
Joseph was born in Sheepshead Bay, NY. Early on he embraced the religious life of a Franciscan Monk at Graymoor in Garrison NY. During World War II he left to join the National Guard. After his service he went on to pursue a career in Industrial Design with Lippencott & Margules, NYC. He later moved to Northvale, NJ where he was very active in the community. Along with spearheading the sports program in town including little league baseball and football he also raised funds to help build St. Anthony's Church. He was a Third degree Knights of Columbus member, Nanuet NY and active in Church choir, St. Anthony's, Nanuet, NY.
Survivors include his wife of 61 years, Anna Nancy of Northvale, his four children: Joseph, Thomas, Barbara, Carolyn and seven grandchildren.
He will be dearly missed and loved by his family and friends.
A Memorial Mass will be celebrated at Our Lady of the Sacred Heart Church (Chapel), Tappan, NY on Saturday, June 24th at 1:00 pm.
www.pizzifuneralhome.com