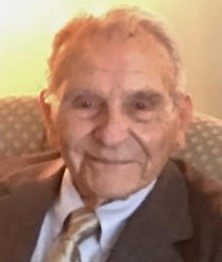 Antonio Scorza, of Harrington Park died peacefully on January 11, 2018. He was 92. A native of Castrovillari, a small town in Calabria, Italy, Tony was predeceased by his wife Bernadine (nee Iafrate) and is survived by a number of cousins in Italy with whom he stayed in touch, visiting and hosting them over the years, as well as a wide circle of close friends and in-laws.
As a teenager, Tony moved to Rome where his studies in medicine were interrupted by World War II. Rather than fight for the Axis, Tony and a group of friends lived in caves near his home town to avoid conscription. Following the war, he joined his mother who had moved to the United States several years earlier. Although he did not finish his medical degree, he had a career in surgical pathology, working in and eventually heading up labs in Montefiore, Einstein, and Memorial Sloane Kettering Hospitals. A life-long bicyclist, fly fisherman, and skier, it was a skiing accident that introduced Tony to his wife of 44 years. While recuperating from a broken leg, a mutual friend brought Bea to visit Tony. They were married soon after and moved to Harrington Park the following year. The two shared a love of travel, and spent most of their vacations abroad.
Donations may be made in Tony's memory to The Memorial Sloan Kettering Cancer Center, 1275 York Avenue, New York, NY 10065.
Visitation will be at the Pizzi Funeral Home, 120 Paris Avenue, Northvale, NJ on Monday, January 15 from 4-7PM. A Funeral Mass will be offered on Tuesday, January 16 at 10:30 AM at Our Lady of Victories RC Church, Harriot Avenue, Harrington Park, NJ.
www.pizzifuneralhome.com