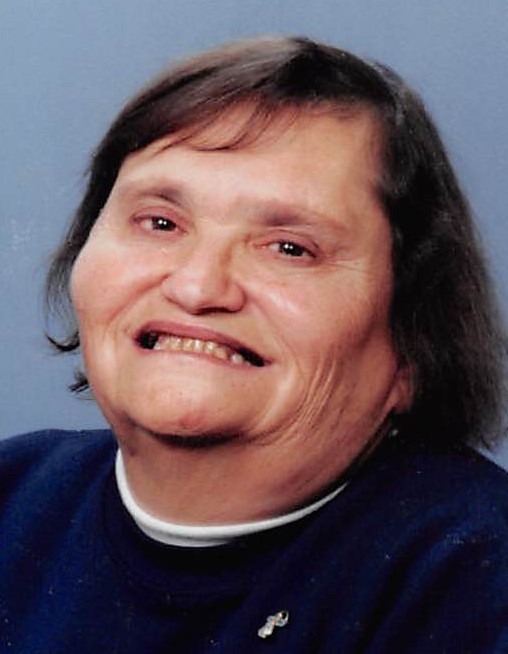 Carolyn Buccellato was born December 24 1950 to the late Andrew & Edith Buccellato. She is survived by her sister Andrea Saccento (Guy), Peter Buccellato (Lisa). She is predeceased by her sister, JoAnne Smolinski (Michael).  Also survived by 12 nephews/nieces and 17 great nephews/nieces who loved her.
Although born with many challenges she always persevered, and had a very full life surrounded by a loving family. Carolyn had a lot of faith which was passed down from her parents. She worked at Annie Sez for 20 years. Everything she did was done with her whole heart.
Her candidness was very humorous. She would always point out the "elephant in the room" that everyone tiptoed around. She hadn't learned social norms as she was innocent. Thank God for that!
A familiar site on JohnEd Road in Northvale would be Carolyn riding her big tricycle. She would ride up and down the road hollering at her nephews (Guy & Jason) when they tried to take her bike to do wheelies. Her mom took her bowling and to many dances. How she loved to dance! We had a theme song for her "Sweet Caroline". When we had weddings and celebrations we would play the song. Carolyn would get up in the middle of the dance floor, arms open and we would gather around her and sing Sweet Caroline. And she laughed and danced.
Outside of a great love for God, her family and friends, there was "Mickey Mouse". Her joy of Mickey Mouse and excitement of going to Disneyland was infectious. She had as many stuffed Mickey's and Minnie's as a toy store. She had Mickey everything right down to shirts, socks and pjs.
In the last 5 years of her life she lived in Spectrum for Living in Norwood. It was here that she continued to be loved and cared for by the heros of our society. A.K.A the angels of love. They would care for her even as her body was failing. Her finger nails would be polished to match her outfit. Her hair with her little hair clips. The cycle of love continued. Carolyn was very happy. She passed away May 8, 2020.