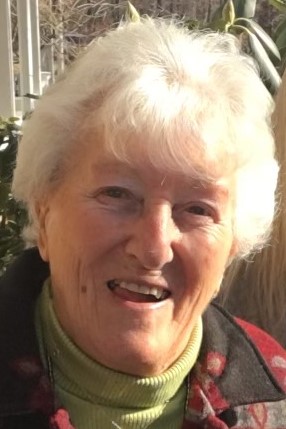 Gwendolyn Theresa Phillips, nee Pellegrin, of Denver, NY formally of Closter, passed away on the 4th of July 2021 at the age of 91. Born in Northvale on January 20, 1930, "Lena's" parents moved the family to Closter when she was a child.
Gwen is predeceased by her husband and best friend of 56 years, Thomas Joseph Phillips, her beloved grandson Travis Thomas Watkins, her parents Anthony and Julia (DelGrande) Pellegrin, her brothers Peter, Raymond, Dominick and John and her sisters Theresa DeMauro and Anna.
She is survived by her beloved children Beverly Ann Watkins of Closter, Lynda Ann Schaller (Peter) of Demarest and Thomas John Phillips (Cheryl Myers) of Fleischmanns, NY. She is the very special MiMa to Cody Malvern Watkins (Amanda) of Norwood, Schuyler Mackenzie Watkins of Boston, MA, Thomas Joseph Phillips of Fleischmanns, NY, and great granddaughters Piper Rae and Mackenzie Kate Watkins of Norwood. She is also survived by her brother Anthony of Warnerville, NY, many nieces and nephews and her loyal sidekick, her dog, Beau.
Gwen was a past president and proud member of the KH&L Ladies Auxiliary of the Closter Fire Department for many years while her husband Tom was Ex-Chief and a volunteer. When Tom retired from the Closter Police Department in 1985 they moved to their little house along the brook in the Catskill Mountains where Gwen volunteered for the Margaretville Fire Department Ladies Auxiliary and the Margaretville Hospital Auxiliary. She most enjoyed eating out, gardening, crafting, volunteering at the hospital thrift shop, visits from her family and the New York Yankees.
Gwen will be forever loved and cherished for her selflessness and unconditional love for her family; she will be sorely missed.
Donations in Gwen's name to the Juvenile Diabetes Association would be greatly appreciated.
A service will be held at the Pizzi Funeral Home, 120 Paris Ave, Northvale (201-767-3050), Thursday, July 8 from 4pm to 7pm. Funeral Mass to be held at 9am on July 9 at St. Mary's RC Church in Closter followed by burial in Fleishmanns, NY.
ww.pizzifuneralhome.com